Citroen C1 - a new role with Hertfordshire Community Meals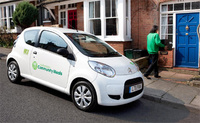 The Citroen C1, already one of the UK's most popular city cars, now has a new role with Hertfordshire Community Meals (HCM). This 'not for profit' social enterprise has just added five specially converted Citroen C1 VTR 3-door models to its 'meals on wheels' delivery fleet. Supplied by Citroen Letchworth, the C1s will join 41 specially equipped Berlingo First vans as part of HCM's expansion.

The low emission - 103g/km - C1 VTRs, which are equipped with air conditioning and remote central locking as standard, have their rear seats removed and a ply load compartment floor fitted to enable them to carry up to four specially insulated boxes. HCM is expanding its fleet as it is now delivering meals to some 2,000 clients throughout Hertfordshire. The addition of the C1s is part of a move to provide an even more environmentally respectful service in urban areas, as well as delivering other benefits to the organisation.

Sarah Wren, HCM Chief Executive explains; "We are very pleased with our current fleet of Citroen Berlingo First vans, but with our new responsibilities in Hertfordshire we have taken the opportunity to add some new vehicles to our fleet. The Citroen C1s will help us to deliver an excellent service to our customers, whilst reducing energy consumption and reducing our costs. We have now moved some of our Berlingo First vans to cover new, longer rounds in Welwyn and Hatfield. The cars are used to deliver hot meals on shorter rounds in and around St Albans. This means that the C1s are able to deliver hot meals straight from the ovens in our kitchens without on-board heating. Also, their small size and good visibility means our drivers will find them easier to manoeuvre and park in narrow streets."

Carrying up to four insulated hot boxes, the C1s will deliver to some 30 households each day. The five cars are being operated on Citroen Contract Motoring three year, 30,000 mile, with maintenance contract hire agreements. At the end of their service life, the C1 cars are easily converted back to standard specification with minimal work. As well as being one of the UK's most popular city cars, the Citroen C1 has shown its versatility in demanding commercial applications such as meter readers' vehicles.

"HCM is continually looking for more cost effective and efficient ways of delivering meals. The new C1s, which will be joined by more of these cars in our fleet, provide significant operational, financial and environmental benefits. They are cheaper to contract hire and have even lower fuel costs than the Berlingo vans. They are also easier for our drivers to manoeuvre in urban environments and have eliminated on-board food heating costs for the particular operation on which they are being used," adds Sarah Wren.

HCM provides meals to the homes of elderly and disabled people throughout Hertfordshire on behalf of Hertfordshire County Council (HCC). The affordable provision of healthy, nutritious meals plays a key role in HCC's commitment to enable these residents to maintain their independence and remain in their own homes for as long as possible.