Discover treasures of South Indochina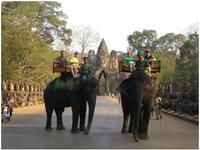 Luxury Travel Vietnam has launched a new 10-day tour-package offering an urban chic experience, culture, nature and heritage in South Indochina, taking in HCMC (Saigon), Vietnam to Seam Reap, and Cambodia.
Landing in Saigon , Vietnam 's dynamic commercial center, explore colorful produce markets, or perhaps stop in a designer shop to order a haute couture ao dai. Dine in the finest restaurant in town.
Take a day trip to the Cu Chi Tunnels and watch an unusual, eclectic religious ceremony at the main temple of Cao Daism , a unique fusion of world religions. On another trip, tour the narrow canals of the Mekong Delta to see a traditional side of Vietnamese life.
Fly to Seam Reap, Cambodia. Teeming with history, marvelous architecture and natural beauty, Cambodia is fast becoming a must-see destination in South East Asia . The largest religious monument ever built, Angkor Wat ranks at the top of globetrotting VIP – a must see list of wonders in the word.
This special package offers local charm and luxury combined with exciting activities for guests. It includes accommodations in a state room with daily breakfast and tea break, a candlelit dinner with a bottle of wine, a spa package and diverse excursions and activities such as Apsara dance class, full-day shopping and museum guided visit, a private chartered boat cruise on Tonle Sap Lake.
For tour information and booking, visit: luxurytravelvietnam.com