Over 50 Jaguar E-Types to join cavalcade to Motorexpo 2011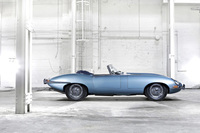 The Jaguar E-Type, one of the most iconic and desirable cars in history, will celebrate its 50th birthday in fine style this summer when more than 50 examples will join a cavalcade to Motorexpo, Britain's biggest free-to-visit motor show (6-12 June; motorexpo.com).

The E-Type cavalcade, which is expected to stretch to almost half a mile long and be accompanied by its own police escort, will take place on 6 June, starting in central London and finishing alongside the Motorexpo exhibition space in London's Canary Wharf. The 10-mile route will feature a host of famous London landmarks, including The Mall, Whitehall, Trafalgar Square and the Tower of London.

At the head of the procession of E-Types will be a team of pro-cyclists representing Motorexpo 2011's designated charity, UK Youth. Among the 15-strong team will be former F1 world champion and keen cyclist, Nigel Mansell OBE, the charity's current president.

The celebratory cavalcade will incorporate a wide selection of gleaming E-type coupe and convertible sports cars, from the 1961 series I launch model and covering every year of manufacture until 1974, when the last E-Type rolled off the production line at Browns Lane in Coventry.

When they arrive at Motorexpo, the convoy of E-Types will join more than 200 modern-day cars occupying the event's exhibition space. A record number of car brands have already confirmed their attendance at this year's show, including Bentley, BMW, Jaguar, Land Rover, Mercedes-Benz, Saab, Skoda, Tesla, Vauxhall and Volvo. Organisers are anticipating that 400,000 visitors will attend the free motoring showcase during its seven-day run.

"The cavalcade will be a fitting tribute to a truly iconic car in its 50th anniversary year," commented Graeme Carver, Motorexpo's CEO. "We're thrilled that Motorexpo will be the destination for the many cherished E-Types that will make the journey across London, and we're certain that they will be in good company once they arrive. Motorexpo will be welcoming record numbers of vehicle exhibits this year, as well as unprecedented numbers of motoring enthusiasts and potential car buyers."

The 2011 London Motorexpo is completely free for members of the public to attend. There are no tickets and no queues, with easy access to the event via one of the wide variety of transport options available. Visitors can take the bus, London Underground or Docklands Light Railway. Alternatively, there is ample space for cars within Canary Wharf's four underground public car parks.

Motorexpo is open daily from 10am to 6pm (Monday 6 to Saturday 11 June) and 11am to 5pm on Sunday 12 June. Details on how to get there and information on the show is available at motorexpo.com.