Traditional and tasteful storage solutions from Sliderobes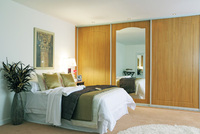 Everything today seems to be big and bold. If you yearn for the more traditional, classic styles and spend hours looking for home interiors that suit simply you, Sliderobes can help. The company offers a vast range of sliding doors in countless colours and finishes to make your room truly unique and personal.
Once you've discovered Sliderobes, the days of finding furniture that just doesn't fit the bill for your home will be over as the company specialises in creating traditional bespoke storage solutions for all environments and styles. Whether you need a particular colour, style or size, Sliderobes can help.
Sliderobes designs work around awkward features such as alcoves, sloping ceilings, chimney breasts and low beams. Everything is designed to suit your home so if it's lots of hanging space or more drawers you need, the design will reflect your requirements.
Likewise, Sliderobes room dividers can be designed from all of the same finishes, so you can create separate spaces in your home still in keeping with the style in the rest of the house.
If it is not convenient for you to visit a store, a Sliderobes designer will visit your home, at a time to suit you, for a free, no-obligation design appointment to discuss requirements. For more information about Sliderobes, visit sliderobes.com.