Get the vintage fashion vibe online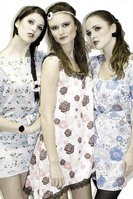 If you have a passion for vintage style fashion, then you'll love the work of Tamworth-based designer Elephtheria Xenos who has launched her first collection online.

Elephtheria's collection is now available for sale under her label Elephtheria Couture Fashion Clothing at fashionkillerz.co.uk – a site selling a wide range of clothing, jewellery and accessories, all made by independent, new and established designers.
Inspired by anything vintage from garments to prints and fabric, and influenced by the simplicity of accomplished designers D&G and Calvin Klein, Elephtheria's current collection is mainly made up of dresses but she also designs tops, skirts and jumpers as well as jewellery. She is also looking to expand and design trousers, shorts and jackets.
Originally from Greece, Elephtheria – whose name means freedom – moved to the UK when she was 11 years old. "I really enjoy designing my garments then seeing them take shape as they're made up," said Elephtheria, who gained a Fashion Design degree at Derby University only three years ago. "My designs are made from jersey or my exclusive vintage printed fabric which is designed in-house. I also like to mix the jersey with woven printed fabric to create contracting textures."
Elephtheria's aim is to eventually sell her label in boutiques but when she discovered the Fashion Killerz website she was so impressed that she started to add her garments and jewellery for sale online. "I came across the site and it was just what I was looking for as an outlet from which to sell my work. Fashion Killerz caters for the many people who are looking for something special and different but without having to pay a small fortune."