Ford Transit ECOnetic vans boost green builder's fleet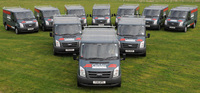 Gelder Group, an environmentally conscious British construction company, is driving towards a greener future with a new delivery of 10 Ford Transit ECOnetic vans.

The Lincolnshire-based Gelder Group chose the Ford Transit ECOnetic for its improved fuel economy and tax benefits and best-in-class CO2 emissions. These new Ford Transit ECOnetic models will boost their fleet to over 200 vehicles, of which about 80 per cent are supplied by Ford.

A Ford Transit ECOnetic van, equipped with a 2.2-litre TDCi 115PS diesel engine and six-speed gearbox, is equipped with a range of ECOnetic technologies including Ford's Smart Regenerative Charging and Advanced Battery Management System as standard and an optional ECO pack, including Auto-Start-Stop.

Ford's greenest Transit van features optimised engine mapping and longer gearing, along with aerodynamic wheel covers and a shift indicator to help achieve a class-leading 189g/km CO2 figure and a combined fuel economy cycle of 39.2mpg.

Gelder Group fleet manager, David Leak, said: "The Gelder Group is very environmentally aware and we are constantly looking for new ways to operate in a more sustainable manner. The new Ford Transit ECOnetic, with its improved fuel economy and lower emissions, is exactly what we were looking for and supports what we are aiming to achieve."

Gelder Group environmental officer, James Hill, added: "We are set to hit peak oil production within 20 years and the revolution of hydrogen fuel cells is just around the corner, so it seems logical that every fossil fuel-powered vehicle we operate should have efficiency and cleanliness placed among the very top of its performance standards. This new Transit is the best commercial vehicle we could find that satisfies those standards."

Ford of Britain commercial vehicle director, Steve Clary, said: "I am delighted that The Gelder Group has strengthened its Ford fleet with these Transit ECOnetic vans. Sales of the Ford Transit ECOnetic doubled in 2010 from 2009 and as we move closer to tighter emissions standards in the UK, we expect continued sales growth in this area."