Volvo Trucks' new rear axle can reduce fuel consumption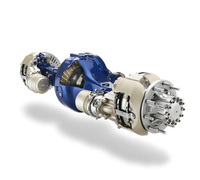 Volvo Trucks is now taking yet another step towards reducing its customers' fuel costs by introducing a new rear axle for fast, heavy long-haul operations which could cut fuel consumption by up to two per cent, compared with today's hub-reduction axles.

"Low fuel consumption is always a high-priority issue and for customers working in long-haul operations, whose vehicles may cover several hundred thousand kilometres a month, a reduction of a couple of per cent represents a major cost saving," says Hayder Wokil, product manager for the long-haul segment at Volvo Trucks.

Intended for high engine power outputs

The new RSS1360 rear axle is a solo axle with single reduction designed for trucks with high engine power and gross combination weights of up to 60 tonnes. In other words, vehicles built for demanding long-haul duties carrying heavy loads and travelling at high average speeds. Food and agricultural produce are two typical cargoes for this application area.

Fast and fuel-optimised

This is a longed-for new feature, particularly among Volvo FH16 customers. For the first time they can now specify a solo axle without hub reduction, making it possible to cut fuel consumption by up to two per cent. The axle has a generous selection of ratios, making it possible to optimise the overall gearing in the best possible way. The RSS1360 can be specified for Volvo's FH and FM ranges and is available on both rigids and tractor units. The new solo axle will be gradually introduced on various markets during 2011 and 2012, starting in June this year.

"The trend in Europe shows an increasing shift towards more powerful trucks and larger vehicle combinations. The introduction of the new rear axle is one of many measures from Volvo designed to show that fast and efficient transportation can also be very economical," says Hayder Wokil.