Get the 'job' done by stealing the show at Simply Italian 2011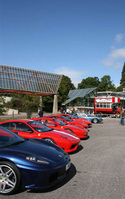 On Sunday 22nd May, the first Simply Italian event is set to launch at Beaulieu with a line-up of vehicles poised to stir up a fiery passion for all things Italian. This promises to be a great day out, and a fantastic opportunity for families and enthusiasts alike to celebrate the fine Italian craftsmanship and beautiful designs that make Italian motors so unique.

Owners of Italian vehicles, both classic and new, are invited to join in with the event by coming to Beaulieu in their cars. All Italian marques, from Alfa Romeo, Ferrari and Fiat, to Lancia, Maserati and Lamborghini are welcome.

All owners taking part have an opportunity to enter the Pride of Ownership competition with the winner receiving a £100 cash prize and a Beaulieu trophy. The winner will be one of twenty vehicles chosen by the judging panel to go on display in the Main Arena and take part in a cavalcade.

In addition to individuals arriving in their own cars, the 'Italian stallions' of the motoring world will be out in force at the event. The Ferrari Owners' Club and the Lancia Motor Club will be participating in the event, zooming into the Beaulieu parkland in a variety of beautiful motors. Expect to see an array of full-blooded Italian cars in the Meridien Motor Group display, with a range of makes and models, from a compact Fiat 500 to a stunning Ferrari 458. A selection of Lambrettas from the Hampshire Scooter Club will also be gracing the event, and there will be a small number of stands selling parts and accessories for many Italian marques.

Don't miss the opportunity to see an exceptional collection of World and British Championship Superbike Ducatis, currently on display in the National Motor Museum's Motorcycle Gallery. This is the largest collection of Ducatis outside the Ducati Museum in Bologna, Italy.

For entrants arriving on the day in their Italian vehicle and joining the event on the Beaulieu Parkland, individual prices are £10 per adult, and £5 per child. To book in advance, or for more information about group or club entry and concession prices, telephone 01590 612888. Entry into the Beaulieu parkland with your Italian vehicle is from 8.30am – the Brabazon Restaurant will be open for bacon rolls, cakes, teas and coffees.

All other entries will be via Beaulieu visitor reception at normal admission prices. For all enquiries on Italian marque related trade stands, telephone 01590 614614.

Admission to the event includes entry to the whole Beaulieu attraction; the National Motor Museum and World of Top Gear, Palace House and gardens, and Beaulieu Abbey. Visit beaulieuevents.co.uk for more information.