Affordable city living with Bloor Homes in Manchester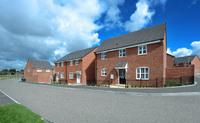 A milestone at Bloor Homes' Peacock Gardens development in Gorton has just been reached, with over 50% of the development now sold. The strong appeal that has seen building work continue throughout the recession, does not surprise the Bloor people.
We asked Sales Adviser Caroline Harper why the location has bucked the trend: "The high specification combined with keen pricing really delivers the wow factor.
It is the affordability that often surprises visitors. The Government backed HomeBuy scheme that is now coming to an end, has been very successful in helping people on to the property ladder. We have all heard of the large deposits demanded by the banks and building societies. The HomeBuy Direct avoids this by providing an equity loan of up to 30% of the property value. This reduces the mortgage borrowing requirement, the amount of deposit and the monthly mortgage payments. There is more good news. The equity loan is interest free for the first five years and can be repaid over a 25 year term or when the property is sold"
"Take for example the Bramwell 3-bed family home with en-suite and parking at Peacock Gardens. On the HomeBuy Direct scheme homebuyers could own 100% of this beautiful home for just £91,000* now with a small deposit. For buyers this could work out to be a monthly mortgage of £461 on a normal repayment mortgage with the Halifax, fixed for two years or just £428 on Natwest mortgage fixed for two years. Both over a 30 year term. You can see the appeal. The monthly mortgage amount of say £461 can work out a cheaper option than renting at a weekly equivalent of approximately £107, and you are on the property ladder."
'The small deposit on this example would equate to around £4,550. Homebuyers are finding their savings or the bank of mum and dad help here, so they can buy now whilst there is still good value in new homes and interest rates are historically low. People that are getting married have asked their family and friends to give cash in place of presents so they can buy a home. And what better start to married life can there be than being a home owner."
"As the residency increases the development just gets more attractive to home buyers. This is a really friendly neighbourhood that has been carefully planned to offer a choice of family homes, just 4 miles from the centre of Manchester."
SPECIAL WEEKEND OFFER…
With HomeBuy Direct coming to an end, Bloor Homes are holding an open house event on Saturday 14 and Sunday 15 May, to show off the last properties that are ready to move in from May, with HomeBuy Direct available. As an added bonus there is a Bramwell fully furnished show home for sale. All the new homes reserved at the weekend will have carpets, window blinds, light fittings and turfed rear gardens, plus a 32ins flat screen TV included, on completion.
The weekend of 14, 15 May at Bloor Homes Peacock Gardens located off Waylands Road South, Gorton, Manchester, M18 7NT. The marketing suite and show homes are open every day from 10am to 5pm.