New homes in Rugby ideal for families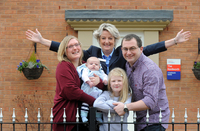 Jonathan Jenkins and Lisa Brzozowski are delighted with their new home at Taylor Wimpey's Caldecott Manor development of property for sale in Rugby – and say it's the perfect place to raise their young son.
Meet Caldecott Manor's youngest resident, two-month-old Aneurin Jenkins, who is settling into life with his mum and dad in the comfort of their brand new home at the Taylor Wimpey development of houses for sale in Rugby.
Proud parents Jonathan Jenkins (36) and Lisa Brzozowski (26) moved into their 'Highclere' detached property in Rugby about 18 months ago with the hope of raising a family together – and happily, their move was soon followed by the patter of tiny feet.
The family's new four-bedroom home at the Taylor Wimpey development of apartments and houses to buy in Rugby provides plenty of space for Jonathan's daughter Annie (6), who has a bedroom of her own when she comes to stay.
And for Lisa, the sense of community being created at Caldecott Manor is just perfect for life as a new mum.
She explains: "When we first looked at Caldecott Manor the sales staff said it would be a nice community with young children and we thought it would be a good place to start a family.
"One of the best things about the move has been that the sales staff have been so supportive – they're building a community here and they're always keen to introduce new people as they move in.
"As a result, we get on really well with the neighbours and everyone's always popping their head round each other's doors to say 'hi'!"
Jonathan and Lisa purchased their new home at Caldecott Manor with the help of Taylor Wimpey's Deposit Match scheme. Available now on selected properties at the development, this fantastic initiative sees the leading house builder match up to 10% of the purchaser's deposit with an interest-free loan – allowing the purchaser to get a better mortgage rate and secure lower monthly mortgage payments.
Before moving to Caldecott Manor, the couple had been renting in Rugby so that they could be close to Annie and her little brother Nathaniel, who was born with the rare genetic disorder myotubular myopathy and who sadly died just nine days before his first birthday.
The family are involved in supporting the Myotubular Trust, which funds research to help find a cure or treatment for children with myotubular myopathy.
After Nathaniel's death, Jonathan and Lisa decided to buy a home that would mean they could be close to Annie, and Caldecott Manor seemed the perfect choice.
Taylor Wimpey's Deposit Match scheme helped them on the way to buying the 'Highclere', which they chose because of it well-proportioned rooms.
Now, at home with a new baby, Lisa is enjoying the convenience of life at Caldecott Manor, especially the fact that shops at Elliots Field leisure and retail park are within walking distance and provide everything for their daily needs.
"We're near everything which is brilliant," she adds. "It's just a short walk to Tesco, and for me, it's great to be able to put Aneurin in the pram and get out of the house for a walk to the shops."
The new development is also well located for easy access to major road links, and this is ideal for Jonathan, who as director of logistics for clothing retailer Jane Norman is based at Coventry. Junction 1 of the M6 is just a few minutes' drive away, or he can take the new bypass linking to the A45. Either way it's a straightforward drive to work each morning!
Caldecott Manor is a prestigious development on the outskirts of historic Rugby, close to waterside walks along the Avon and Oxford Canal as well as the beautiful Warwickshire countryside.
Rugby train station is just a short walk from the development and offers rail links to London in 50 minutes, Coventry in 12 minutes and Birmingham in just under half an hour.
The town is most famous for the game it invented and the Rugby Football Museum is a major tourist attraction to fans worldwide. However, this historic market town has much more to offer with its own theatre and art gallery, 10-screen cinema and two leisure centres.
Rugby offers an excellent choice of schools, including the opportunity of a grammar school education for children who pass the 11+, while Rugby School is one of England's oldest and most prestigious public schools.
Caldecott Manor Sales and Marketing Suite is located off Boughton Road, Rugby, and open seven days a week from 10am to 5pm.