Right royal golf breaks at Beachbrow Hotel in Deal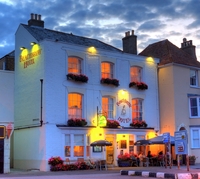 Ahead of the British Golf Open returning to Kent (14th to 17th July), the historic Beachbrow Hotel in Deal, which has long been a favourite with golfers, is offering a third night free on 'stay and play' midweek breaks.
Nearby Royal St George's in Sandwich first hosted the Open in 1894, most recently in 2003 and on dozen occasions in between. The Beachbrow Hotel dates back to the 1700s, when Lord Nelson's Flag officers stayed here when berthed in Deal.

The area boasts several of the county's top courses and the hotel will pre book tee times for guests as some may need to be booked at least 48 hours in advance.
At Royal St George's green fees are £150 per person for 18 holes and £190 for 36 holes until 1st May.
Royal Cinque Ports costs £150 a day, £125 a round, or £80 for "twilight" rounds after 3.30pm during the summer.
Prince's Golf Club in Sandwich have midweek packages £55 for 18 holes until 31st May.
Also nearby are the Walmer & Kingsdown Golf Club built in 1909 and the Stonelees Golf Centre which offers three 9 hole courses, each demanding a different ability level, from the 1159 yard Par 3, through the demanding Executive course to the challenging full length Heights course.
"With the Open – the sport's premier championship – returning to the area for the first time in 8 years, demand from golfers who enjoy great links courses, with fine dining in top venues, will exceed supply," said Ken Hill owner of Beachbrow Hotel, adding, "We're offering golfers the chance to play these top course before the area becomes saturated."
Beachbrow's Waterfront Restaurant with al fresco tables in summer months, offering views across the beach is renowned locally for a menu fish is strong on seafood from resident chef Michelle Spain.
Beachbrow Hotel & Waterfront Restaurant, 29 Beach Street, Deal, Kent CT14 6HY.
For more information, visit: beachbrow-hotel.co.uk