Inauguration of Volvo Truck Center in Skawina, Poland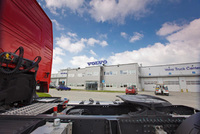 Volvo Trucks Poland has moved its Volvo Truck Center operations in the Kraków area to a completely new Volvo facility in Skawina. The investment proves Volvo Trucks' commitment to the continuous development and modernisation of its sales and service network with the aim of raising the quality of its customer service even further.

Volvo Trucks has one of the best-developed sales & service networks in Poland. Despite this, the company continuously focuses on further development with the aim of being as close as possible to its customers. It does so in order to be able to meet growing customer expectations and needs, providing them with effective and optimal solutions, so this is the reason why a new Volvo Truck Center in Skawina was brought into the operation.

The new Volvo Truck Center facility will provide customers with the full range of products and services, including sales of new and used trucks, genuine Volvo service for Volvo trucks and Volvo buses, as well as genuine Volvo parts, offered under the total business solutions concept.

The official inauguration of the new premises took place on May 6 and brought together many Volvo customers as well as the company's business partners, local authorities and media.

"With this new Volvo Truck Center in Skawina we are taking another important step forward in our continuous development. We hope that this will help us further strengthen our position and our offer in this part of Poland," said Tom Jörning, Managing Director of Region Central-East Europe within Volvo Trucks' European Division.

The new Volvo premises - which also host Volvo Construction Equipment's Polish branch office and workshop as well as the Volvo Financial Services office - are housed in a completely new facility designed and built to Volvo standards with regard to equipment, environmental care and requirements for serving specific Volvo needs. It is also a twin facility to the Volvo premises in Pietrzykowice (Wroc?aw), which entered operation in 2009.

The Skawina Volvo Truck Center is one of seven wholly-owned Volvo workshops in Poland. These, in addition to these there are 18 authorised Volvo Truck workshops in Poland, make a total of 25 service points for Volvo Trucks and Volvo Buses in the country.

The new Volvo Truck Center is very conveniently located on the Kraków southern ring road and close to the A4 highway.