DVLA serves up a gem!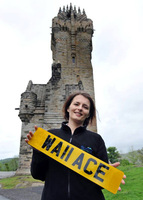 DVLA Personalised Registrations has come up with the perfect 21st century monument to iconic Scotsman Sir William Wallace with the apt WA11 ACE personalised registration.

The registration is just one of 1,500 which will go under the hammer at its forthcoming auction which gets underway on Thursday, May 26, at the Heritage Motor Centre, Gaydon, Warwickshire.

The catalogue for the three-day event again boasts an eclectic mix of registrations to suit all tastes and budgets, ranging from £250 through to the sale's "star" registration, 15 O boasting a £10,000 reserve.

Organisers have also listened to their regular customers by ensuring the final day –encompassing registrations starting with the letters O to Y – is conducted on a Saturday.

Damian Lawson, DVLA Personalised Registrations' Marketing Manager, said: "Including the Saturday sale is just another example on how we listen to our customers.

"The Heritage Motor Centre is an iconic tourist attraction right in the heart of the UK, those who come along and register to bid will be granted free access to the museum."

In total, DVLA's forthcoming auction will comprise 1,500 registrations chosen to offer an eclectic mix to suit all tastes, styles and budgets including; BEL 41R (reserve £400), CEN 50R (£400), FOR 1T (£900), F4 CTS (£900), G111 NNY (£900), MCL 12C (£900), 1 NFU (£3,200), 15 O (£10,000), 1000 OO (£5,000), 7 OOO (£4,000), PRO 80X (£400), RAJ 1F (£900), 11 SAD (£1,900), TEX 80Y (£400), UTD 80Y (£450), WA11 ACE (£2,000), YES 80B (£400).