Peter Green chilled takes five new Volvos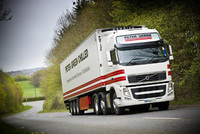 Somerset-based operator Peter Green Chilled has taken delivery of two new Volvo FH tractors, the first Volvo trucks to join the fleet in almost 25 years.

Indeed, fuel returns have already proven so encouraging that the company has placed an order for three additional units.

Supplied by the local Truck and Bus Wales & West dealer, the first vehicles were acquired as the result of 'positive stories about fuel consumption' and a 'particularly attractive offer' according to a spokesman for the company.

Specified with a 13-litre diesel rated at 500hp and the two-pedal I-Shift automated gearbox, the three-axle tractors are equipped with a Globetrotter cab and Volvo's Dynafleet telematics system.

The Peter Green Chilled fleet includes several marques including the Renault Premium which employs a Volvo-derived driveline. According to Peter Green Chilled driver-trainer Derek Chant, the Premiums were generally well accepted and returned good fuel figures, so the decision was taken to 'go a step further and evaluate the Volvo'.

"It's probably fair to say that the Volvo has established a great reputation for comfort and safety over the years so expectations were high," explained Derek, adding: "I have to say that the feed-back from the drivers has been extremely positive so far," he added.

"The Dynafleet system even allows us to monitor occasions when drivers are using the Performance Mode unnecessarily as well as identifying excessive idling time. This type of information enables us to improve driver performance and maximise fuel efficiency," concluded Derek.

Peter Green Chilled services retail and wholesale outlets throughout Britain and Europe from its home base in Evercreech and it is anticipated that the new Volvo tractor units will cover about 160,000 kms annually. With more than 60 vehicles in the fleet, any improvement over the bench-marked fuel figures is extremely welcome.