Daisy de Villeneuve goes hand in hand with Fine Cell Work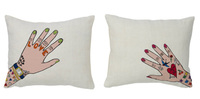 Daisy de Villeneuve creates bespoke cushion design that goes hand in hand with Fine Cell Work. The witty designs are a real talking point and add a sense of fun and individual style for home accessories.
Daisy de Villeneuve - known for her iconic felt-tip illustrations and quirky designs - has created an eye-catching cushion collection for Fine Cell Work. The two statement designs feature outstretched tattooed hands that have a sense of ironic realism that conveys the spirit of Fine Cell Work through Daisy's signature witty style. They make the perfect home accessory for lovers of contemporary art and modern, funky interiors.
The two designs are silk screen printed onto linen with multi-coloured hand embroidered detailing for the 'Love' and 'Mum & Dad' tattoos. Priced individually at £45, or as a pair for £85, available from finecellwork.co.uk (They can also be commissioned and personalised for a small additional price from £15)
London born illustrator, designer and writer Daisy de Villeneuve has made a name for herself with her funky, felt-top illustrations for clients including Topshop. LVHM, Nike, Liberty, Boots and Random House. Daisy's art has featured in numerous fashion magazines, galleries, and unique exhibitions but this is the first time one of her designs has been used as a cushion or produced in hand embroidery.
Speaking about her collaboration with prison needlework charity Daisy said: "I've always liked tapestry and was instantly drawn to the cushions and different designs. Fine Cell Work is such an important cause as it helps rehabilitate inmates while in prison, giving them the opportunity to earn & save money, learn a skill & give them hope. Also the added benefit that making tapestry & sewing can be therapeutic."
All items are available from Fine Cell Work at finecellwork.co.uk.