Volvo environmental award to timber haulage project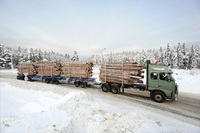 Volvo Trucks' 'En Trave Till' (ETT) or 'One More Pile' project has won the Volvo Group's internal environmental award for its success in reducing emissions from timber haulage trucks.

"One quarter of road haulage in Sweden is accounted for by the transport of timber. If we can make these transport operations more efficient and reduce their carbon emissions, we stand to gain a lot," says Lena Larsson, project manager at Volvo who, together with her project colleague Lennart Cider, accepted the award at the Volvo Group's environmental conference on May 17th.

The environmental award is presented every year to encourage good examples and initiatives in the environmental field. The jury's judgement was based not only on the ETT team's "enthusiastic and successful work in developing a modular system for energy-efficient vehicle-based transport", but also on its successful co-operation across project boundaries. For example, ETT brought a large number of different organisations together, including the Swedish Forest Industries Federation, Skogforsk and The Swedish Road Administration.

By lengthening trucks and thus increasing the amount of timber that each vehicle can carry, the ETT project succeeded in reducing emissions of carbon dioxide by 20 per cent, whilst retaining safety levels and without increasing wear on the road surfaces.