Top performer achieves 11.13mpg in Renault Trucks demo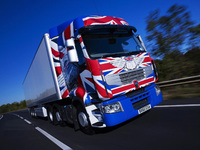 Renault Truck Commercials launched an eye catching demonstration programme last December, with its Union Jack and Welsh flag branded Premium Long Distance tractor units, which have been widely spotted across the UK. As part of the programme, the company took downloads to monitor fuel efficiency at the end of each demonstration period, (typically one week), with one operator returning 11.13 mpg.

The demonstration programme was designed to showcase the features of the Renault Premium Long Distance tractor as one of the most productive, comfortable and fuel efficient vehicles available on the market today. The results did not disappoint, with a very respectable overall average of 9.58 mpg, being achieved across all of the trials.

Christophe Blazere, Managing Director of Renault Truck Commercials, explains: "We wanted to put our money where our mouth is and really show our customers what they get with the Premium Long Distance.

We used our Optifuel Infomax data collection and analysis tool to download the demonstration vehicles at both the beginning and the end of the trial and provided the subsequent report directly to the customer as part of our feedback.

The best fuel consumption during our programme was 11.13 mpg, with other prospects regularly achieving over 10 mpg. The overall average of 9.58 mpg was very pleasing, as the companies that trialled the vehicles run on a variety of jobs and contracts."

Christophe continues, "We sold over 50 Premiums as a result of this programme and most of them are significant conquests for Renault Trucks, such as JJ Bartletts and Sons and Ralph Coleman. In fact, all our demonstration vehicles were sold before we even finished the programme!"

Following this success, Renault Truck Commercials has just ordered another 4 Premium 460.25 6x2 long distance tractor with the Union Jack livery to use as demonstration vehicles for the group.

For more information, visit renault-trucks.com.