Older, wiser and still travelling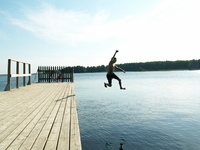 Goodtogoinsurance.com, specialist insurer providing travel cover for the over 65s and those with pre-existing conditions, welcomes a report from consumer group Which?, highlighting the lack of affordable insurance for the older traveller.
Which? Executive Director, Richard Lloyd, said "It's absurd that you could wake up one morning and suddenly be three times more expensive to insure...Older travellers are finding it increasingly difficult to get cover or are priced out of travelling altogether."
Managing Director of goodtogoinsurance.com, Iain Sykes, couldn't agree more. "We created goodtogoinsurance.com to solve this exact problem. Insurance was too expensive for those deemed 'high-risk' simply by their age, and we want to change that to ensure older people are not being put-off travelling by the high cost of insurance."
Goodtogoinsurance.com uses a simple medical screening process which is able to provide an instant and accurate quote for the individual, with no upper age limit on single trip policies. This allows more people to travel covered by travel insurance at a reasonable price.
Sykes continued, "The world today is very different from that of 20 or even 10 years ago; consumers are much savvier and the population is also getting older. Therefore, insurers need to accept and address the increased need for good quality and reasonably priced travel insurance for older people."