Volvo's new 'Ready to Roll' water tender is industry first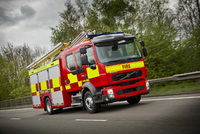 In a move which will reduce delivery lead times and streamline customer order processing, Volvo Trucks has launched a new concept water tender based on the tried, tested and universally trusted FL-L 15 / 16 tonnes GVW chassis for fire applications.

Designated the 'Ready to Roll' FL-L, the new water tender represents a radical, but customer friendly departure from the traditional method by which brigades order vehicles.

This industry first has been made possible thanks to a unique partnership between Volvo Trucks, vehicle optimisation specialists Estepe, Angloco and Strongs Plastic Products. It means that brigades can now place a single order for a fully road-ready, FL-L water tender. In fact, the Ready to Roll FL-L is just that – ready to go into service with the minimum of delay. To further maintain the efficiency of the process, the cab is factory painted in Agra red.

Because the Ready to Roll FL-L and its associated bodywork and equipment are built in parallel and by taking advantage of the increased efficiencies which come from the partnership, it has been possible to reduce the total time in build. The result is that delivery lead times have been shortened to between 4 and 5 weeks from the date the chassis is received in the UK from Estepe in Holland.

The new Ready to Roll FL-L comes complete with Volvo Safety Crew Cab (to ECE R29 standard), fire pump, co-polymer plastic bodywork and even final fitting by Angloco from a menu of pre-defined equipment and storage layouts.

User friendly, light and compact
At 15 or 16 tonnes GVW, the Volvo Ready to Roll FL-L provides a light, compact solution for brigades whether they are working in towns and cities or rural areas. With its user friendly, 6 speed Allison automatic transmission and a choice of either 260 or 290 hp engine outputs, the FLL can tuck into tight spaces and areas with limited access for manoeuvring. The automatic transmission, with Allison integrally mounted retarder, means that the driver can remain fully focused on the job in hand.

The Volvo chassis is built at the world's first CO2neutral manufacturing facility and the choice of co-polymer plastic bodywork manufactured by Strongs Plastic Products of Tamworth provides a beneficial unladen weight saving.

Kerb weight of the Ready to Roll Volvo FLL water tender, complete with crew and 1800 litres of water can be as low as 13,000 kgs (subject to +/- 2.5 % manufacturing tolerance), depending on equipment specified.

Cab access eased
Running on 19.5 inch wheels, which also help lower the centre of gravity, the FL-L features a low bottom step providing ease of entry and exit from the cab. The Volvo D7F Euro-5 compliant engine delivers up to 1070 Nm of torque between 1200 and 1800 rpm – providing excellent acceleration. Brakes on the Ready to Roll FL-L are Volvo's electronically controlled EBS discs. Traction control and Hill-Hold facility are options.

The whole manufacturing process of the Ready to Roll Volvo FL-L water tender is focused on Volvo's world-wide core values of quality, care for the environment and safety. The partner companies have been closely involved in the design and development process which has also been set up to simplify warranty processing and other admin.

Recyclable bodywork
By standardising on the proven FL-L chassis and crew cab, brigades will also benefit from excellent parts support and quality service back up from the extensive Volvo dealer network. The co polymer plastic bodywork is also recyclable.

All in all, the new Volvo Ready to Roll FL-L water tender represents not just an industry first, but also an example of how the supply chain for the manufacture of fire application vehicles can be improved for the benefit of customers by the use of innovative thinking and a carefully thought out partnering arrangement between four of the industry's leading companies.
For more information, visit volvotrucks.com.