Volvo FH wins title 'Polish Truck of the Year 2011'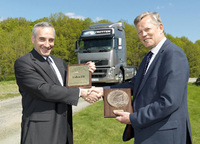 Now in its 18th year, the accolade of 'Polish Truck of the Year 2011' has been won by the Volvo FH.

The annual competition is held by the Polish truck trade press magazine 'Polski Traker' and aims at selecting the best and most popular truck on the Polish market in the opinion of the magazine's readers.

Voters who opted to explain their choice referred mainly to the truck's excellent driveline performance and fuel efficiency, its wide range of leading safety features and the overall driving comfort.

The award was presented to Staffan Jufors, President and CEO of Volvo Trucks and Claes Nilsson, President of Volvo Trucks EUD by the publisher and Aleksander G?u?, the editor-in-chief of 'Polski Traker', at the official handover ceremony, which took place in Gothenburg on May 9th.

"It is with great pleasure that we accept this award," says Staffan Jufors. "We know that the Volvo FH is a great truck when it comes to driveline efficiency, comfort and fuel efficiency, but it is particularly gratifying to hear our customers say it,"

This is the fourth time that a Volvo truck has won the "Truck of the Year" title in Poland – the previous awards also went to FH models in 1993, 1994 and 2001.

The award to the local Volvo Trucks organization in Poland will be handed over at the annual truckers' festival in Kraków in June 2011, which will also be organized by 'Polski Traker'.
For more information, visit volvotrucks.com.