Final chance for buyers to get more for less near Malton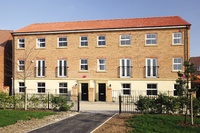 People looking for a new home near Malton, should head along to Priorpot Mews, in Norton, where Redrow is offering buyers the chance to get 'More for Less'.
For a limited time only, the award-winning housebuilder is adding value to selected properties at the development with a tailored incentive package.
Patsy Aicken, sales director for Redrow Homes (Yorkshire), commented: "Items such as carpets and curtains can add to the cost of moving home. But with our 'More for Less' package buyers won't have to worry about finding extra cash as we're including carpets, curtains, light fittings and landscaping in the price of some of the homes. It's already helped a number of customers buy their dream home and due to its popularity we have extended the offer."
The 'More for Less' incentive is now available on selected four-bedroom 'Neale' style properties, on the market from £159,999.
Set out over three floors, the 'Neale' offers a flexible solution to modern living. The combined kitchen-dining room spans the width of the ground floor and French doors lead to the garden, which flood the area with natural light.
"The ground floor family room is an intimate space that complements the spacious first floor lounge. Those who perhaps don't want two living rooms could use the smaller room as a home office or let their children use the space as a games room," Patsy suggested.
Also on the first floor is the master bedroom complete with en-suite, with the family bathroom and remaining three bedrooms on the top floor.
For those wanting fewer but larger bedrooms, the 'Dalton' is an alternative three-storey home at Priorpot Mews. Its layout, attributes and high quality specification are similar to the 'Neale'.
The 'Dalton' is priced at £154,999, but eligible purchasers could make an initial saving of save more than £45,000 off the purchase price with HomeBuy Direct.
This Government-backed incentive gives eligible customers a 30% equity loan towards the cost of their home, which is interest free for five years. It means a three-bedroom 'Dalton' could be snapped up for an initial outlay of just £108,499.
"Customers will only need a mortgage for a maximum of 70% of the property's value and should have access to some of the better mortgage interest rates; usually reserved for those with large deposits or substantial equity in an existing home. The outstanding balance can be repaid when the client has more funds available or when they come to resell," Patsy explained.
HomeBuy Direct is open to first time buyers and those starting over after a change of circumstances, such as divorce, provided their annual family income is less than £60,000.
To take advantage of the 'More for Less' package or find out more about HomeBuy Direct, visit the sales office and show homes at Priorpot Mews, open Thursday to Monday from 10am to 5.30pm.