All-inclusive family holidays in Saint Lucia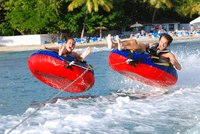 A leading Saint Lucian holiday resort is inviting families to dive into summer thanks to its special summer package, announced today.
Windjammer Landing Villa Beach Resort is launching an 'All Inclusive Family Summer Getaway', so that travellers can escape to the Caribbean sunshine for $769 per night (around £470 per night*) until 30 September 2011.
The package includes all inclusive accommodation in a two-bedroom villa with a private plunge pool, for a family of two adults and two children (4-17 years old), plus an additional child can be added for $75 per night (approximately £45 per night*), plus tax and service.
Windjammer Landing provides plenty of holiday entertainment for children of all ages. Younger children can look forward to discos, pirate nights, nature walks, reggae dancing and limbo at the award-winning Jacquot Fun Club, which offers a daily schedule of educational and entertaining activities for 4-12 year-old children.
Meanwhile teenagers can take part in a comprehensive programme of activities including beach games, bonfire nights and supervised shopping trips.
The resort also features two children's swimming pools, a playground and specially designed children's menus. Qualified nannies are available, allowing parents a well deserved night off to enjoy a candle-lit dinner or an island excursion while their children are well looked after. Windjammer was also voted the top villa resort by customers of babygoes2.com.
Mark Ozawa, managing director of Windjammer Landing, said: "We're delighted to introduce this new family package, which we're offering on an all inclusive basis so that families can fully relax and enjoy themselves during their time with us. Families can craft their perfect holiday at Windjammer with plenty of recreational activities such as water sports and jeep safaris, and our beautiful suites provide the perfect setting for making a lifetime of wonderful memories."
The resort is celebrating its 21st anniversary this year and has undergone a $500,000 refurbishment programme restoring many of the 161 villas to their original designs.
Voted Saint Lucia's Leading Hotel by the World Travel Awards, the resort boasts five restaurants, six swimming pools, a water sports centre, tennis court and a spa, all situated within 60 acres of exotic landscape.
The resort has attracted celebrities such as Claudia Winkleman and Richard and Judy, and has been featured on ITV's This Morning and Living TV's Four Weddings.
For more information and reservations, visit: windjammer-landing.com
* Exchange rates may vary.