Affordable family homes near Selby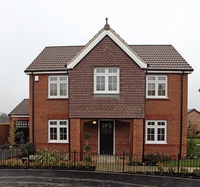 Families in need of extra space could save £70,000 off the initial price of a brand new home near Selby.
A Government backed scheme means they can put off paying up to 30% of the price of a new home until they've got more funds available.
Designed to help those who would otherwise be priced out of the property market, HomeBuy Direct has already helped dozens of people across the region and is available on selected homes at Redrow's Saxon Court venture in Sherburn in Elmet.
The 30% equity loan is interest free for five years and, on a four-bedroom 'Pembroke' could reduce the initial outlay by as much as £70,500.
Patsy Aicken, sales director for Redrow Homes (Yorkshire), commented: "Buying a home and raising children are the two most expensive things we do but with HomeBuy Direct owning a home that meets your family's needs is more affordable. With the help of the equity loan your money will go further and potentially you could buy a larger property than your budget would otherwise allow. It could be the difference between children having to share a bedroom and having their own space."
With HomeBuy Direct, a four-bedroom 'Pembroke' style home, on the market at £234,999 could be snapped up for an initial outlay of just £164.499.
It means customers will only need a mortgage for a maximum of 70% of the property's value and should have access to some of the better mortgage interest rates; usually reserved for those with large deposits or substantial equity in an existing home.
The outstanding balance can be repaid when the client has more funds available or when they come to resell.
HomeBuy Direct is open to first time buyers and those starting over after a change of circumstances, such as divorce, provided their annual family income is less than £60,000.
"Designed to meet the demands of modern lifestyles the homes at Saxon Court are full of family friendly features. For example, the 'Pembroke' boasts a spacious lounge spanning from the front to the rear of the property with French doors that flood the room with natural light," Patsy explained.
"The open plan kitchen and dining enjoys the convenience of integrated top brand name appliances plus tall units and extra wide drawers that offer plenty of storage. Upstairs the en-suite to master bedroom complements the family bathroom, which both benefit from quality fixtures and fittings and an exclusive tile range."
Visit Saxon Court to view a 'Pembroke' style show home and examples of two other properties.
For more information, visit: Redrow.co.uk