EDF to provide EV recharging solutions to Peugeot and Citroen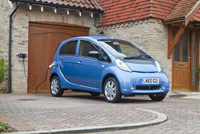 EDF Energy, Britain's largest producer of low carbon electricity, is partnering with Peugeot UK and Citroen UK to offer residential and fleet customers electric vehicle (EV) recharging products and services with the sale of every Peugeot iOn or Citroen C-Zero.

The partnership between EDF Energy, Peugeot UK and Citroen UK will create a one-stop-shop for customers, ensuring best in class motoring technology and safe and convenient recharging solutions. It will support the development, future marketing and up-take of fully electric and plug-in hybrid vehicles. Both companies are leaders in electric vehicle research and development, with EDF Energy's proven expertise in the field of safe recharging and PSA Peugeot Citroen's recent involvement in European trials.

The residential package, which includes a free site survey, makes it even easier and faster to charge a new Peugeot iOn or a Citroen C-Zero. Following a free home survey and the installation of a dedicated charging point, drivers can benefit from faster charging times of up to 35 per cent. The package also includes a timer to enable easy off peak recharging, a smart meter and an EV consumption statement which shows owners the cost of charging the car, along with a full 3 year warranty on the charge point. And, the first 500 residential customers will also receive 1,000 electricity miles free - all for just £799.

EDF Energy's low carbon charge point package means households can save money by receiving 20% cheaper electricity during evenings and weekends with the Eco 20:20 tariff. In recent trials, EDF Energy found that 66% of home charging was carried out during the evening and weekends, making Eco 20:20 an ideal tariff for electric vehicle owners.

The Peugeot iOn and Citroen C-Zero are becoming increasingly attractive from a cost saving and low carbon perspective. Households can benefit with cost savings over a conventional petrol or diesel engine, resulting in a potential annual saving of up to £5,400. It costs £1.92 to charge a Peugeot iOn or Citroen C-Zero from empty, which works out at around 3p a mile, a lot less than a traditional petrol vehicle of 16p a mile.

EDF Energy will offer business fleet customers a range of recharging products and services depending on the organisation's requirements. These include: site survey, technical report, a range of recharging products, installation services and smart metering technology. EDF Energy has been facilitating the site survey and installation of charge points at all Peugeot and Citroen appointed EV dealers across the UK. In addition, EDF Energy has already provided training to dealership staff on safe recharging.

Eric Salomon, Energy Field Services Director at EDF Energy, said: "We are delighted to be working with Peugeot UK and Citroen UK and to offer an electric vehicles package to the domestic and fleet customers. As Britain's largest producer of low-carbon electricity, it fits perfectly with EDF Energy's ambitions to be a leader in low carbon solutions. We understand that the take-up of clean, low-carbon electric transport is crucial to Britain in meeting its carbon reduction targets."

The development of plug-in and other hybrids is also an integral part of Peugeot UK and Citroen UK's strategic commitment to offering "everyone an eco-car". For example, the Group is planning to extensively deploy the Stop & Start micro hybrid system across all of the Peugeot and Citroen model line-ups. Peugeot UK and Citroen UK will also offer full diesel hybrids that will deliver radical improvements in both fuel efficiency and CO2 emissions. These developments will enable Peugeot and Citroen UK to consolidate its environmental leadership in the automotive industry.