Former England cricket captain is batting with Stanford Coachworks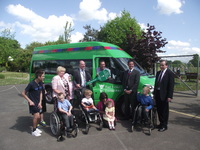 Cricket legend Graham Gooch, was bowled over to present The Lord's Taverners Minibus to Southview School in Witham, Essex.
The former Essex and England Cricket Captain took delivery of the brand new bus, at the school, from Jess Rider, Co-Director, of Stanford Coachworks in Stanford-le-Hope. Stanford Coachworks have been suppliers of minibuses to The Lord's Taverners since 2005, all of which make a bold statement with their eye-catching green livery.
Southview School of Witham, Essex is dedicated to providing support and education for physically and neurologically impaired (PNI) pupils. The school has extremely high standard facilities and utilise a holistic approach to their much needed work. AACESS equipment is used along with innovative technology to provide the best possible resources for their children.
The new minibus, a Ford Transit 115 T460, is equipped with 13 saloon seats, Ratcliff tail lift, saloon heater & is fully wheelchair accessible. It is the 24th Lord's Taverners minibus so far this year to be presented to local schools and community projects.
Jess Rider of Stanford was privileged to be able to make a substantial contribution to the bus of £14,000. This phenomenal amount was achieved through sponsorship of Jess successfully completing the 2009 London Marathon.

In recognition of this triumph, The Lord's Taverners had Jess's name written on the back of the vehicle.
"I was so surprised," exclaimed Jess. "I never expected to be acknowledged on the bus itself; I couldn't stop smiling all day."
Jess says: "The donation was Stanford's way of showing a commitment to the excellent work and cause that The Lord's Taverners stand for."
The Lord's and Lady Taverners is famous for its charity fundraising and donation of specially adapted minibuses to assist young people with special needs. They have over 5000 members and are the official Charity of recreational cricket and the leading youth cricket and disability sports Charity in the UK. The Lady Taverners, founded in 1987 when Baroness Thatcher became Prime Minister, have raised £6 million to benefit the children.
Stanford Coachworks are a conversion and mobility specialist founded in 1994. Their national distribution network supplies over 400 buses each year including luxury mini coaches, wheelchair accessible minibuses, ambulances, PTS's and high class limousines to many private institutions and public sectors.
For more details and to request an appointment, visit stanfordcoachworks.co.uk.