Volvo Trucks on display at Tip Ex 2011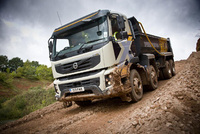 Volvo Trucks is exhibiting three trucks on their stand at Tip Ex this year. In addition to two Volvo FMX 8x4 tippers, visitors to the show will be able to view a Euro-4 spec example of an FH-480 6x2 tractor unit from the company's Selected Used Truck scheme. A Volvo FM 8x4 Tridem belonging to Leicestershire operator GLW Feeds is also on show on the Priden Engineering stand.

With sales of over 5,000 units since its launch last year, Volvo's FMX is proving to be an outstanding success in the construction sector.

According to Volvo Group UK Managing Director Göran Nyberg, demand for the FMX is exceeding expectations so far, despite the somewhat fragile nature of the economy so far in 2011: "The demand for the FMX in the UK and throughout Europe is proof that Volvo have really got it right in terms of providing construction truck operators with a product and transport solution that meets their need for a tough, durable tipper with a top class driver environment as well as industry leading productivity. Our construction industry customers also benefit from our close working relationship with Volvo Construction Equipment and the fact that Volvo is the only global manufacturer to be able to supply and support the largest range of construction machinery and equipment – whether that's new or used trucks, compact wheel loaders or tracked excavators."

"Volvo is the only manufacturer to provide a total transport solution for the construction industry. The Volvo Dealer Network is totally focused on delivering consistent, right first time service for construction trucks and offers a range of maintenance solutions to meet the needs of any construction truck operator," concluded Göran Nyberg.

Payload focused FMX 8x4
One of the two FMX 8x4s on the Volvo stand features the Euro-5 compliant SCR equipped DC11C410 10.8 litre engine rated at 410hp between 1600 and 1900 rpm. Maximum torque of the DC11C410 is 1950Nm, which is developed between 950 and 1400rpm. The wheelbase is 5.6 metres and the truck is specified with Volvo's I-Shift automated mechanical gearbox and the Volvo Engine Brake. The latter develops 300 Kw (400hp) of retardation at 2400rpm when used in conjunction with the DC11C410 engine.

This particular truck is fitted with a PPG Smoothline insulated Tarmac tipper body, Edbro CX14 tipping ram and Dawbarn Raptor top sheet.

Despite the sleeper cab, unladen weight is a payload friendly 11900kgs fully fuelled – permitting a payload of 20100kgs.

Medium duty FMX 8x4
The other FMX 8x4 tipper on the Volvo stand features the Euro-5 compliant SCR equipped D13C380 12.8 litre inline 6 cylinder engine rated at 380 hp between 1400 and 1900rpm. Maximum torque is 1900Nm at 1000 to 1400rpm. The wheel base is 5.1 metres and this truck is also specified with Volvo's I-Shift automated mechanical gearbox. Engine brake is the VEB+ which produces 380Kw (510hp) at 2300rpm. This truck is equipped with a Day cab.

Bodywork is supplied by Thompson in the form of a steel, medium duty Loadmaster Lite. Tipping ram is an Edbro CX15.

Unladen weight is 12900kgs fully fuelled thus permitting a payload of 19100kgs.

Selected Used FH
The Globetrotter XL-cabbed FH-480 6x2 tractor on the Volvo stand is from the Volvo Selected Used Truck scheme. It is equipped with Volvo's I-Shift automated transmission, Volvo Engine Brake (developing 300 kW of retardation at 2,300 rpm) together with PTO and equipment to operate a walking floor or tipping trailer.

The Volvo Selected Used Truck offer is unique with all Selected Used Trucks sold by Volvo Used Truck Centres undergoing a 200 point check as part of the preparation process prior to going on sale. Trucks on the programme are also supplied with a Volvo Used Truck Driveline Assurance package which provides 3 or 12 months cover and a minimum of 6 months MOT certificate.