Volvo presents new gas-powered truck in Berlin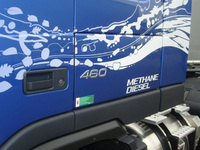 From 7th-9th June, Volvo Trucks have been taking part in the NGV Berlin 2011 Fair in order to present the Volvo FM Methane-Diesel. The participation in this show is also part of Volvo Trucks commitment to establish 'blue corridors' in Europe. These transport corridors are designed to increase the availability of gas on European roads to make it possible to cover longer transport distances with gas-powered trucks.

NGV Berlin 2011 is being organised by NGVA (Natural & Bio Gas Vehicle Association) Europe, a platform for companies involved in gas for vehicles.

"NGVA Europe is actively driving important issues within the gas vehicle area and, through our participation in the fair and membership of this organisation, Volvo Trucks is helping to establish an infrastructure that will create transport that is both environmentally sustainable and more economical", says Lennart Pilskog, Director Public Affairs at Volvo Trucks.

The question about 'blue corridors' is actively driven through Volvo Trucks membership in NGVA Europe.

During the fair, Volvo Trucks has been showing its new Volvo FM Methane-Diesel, which uses methane gas as its primary fuel and has a technology, which makes it possible to use methane gas in diesel engines. The technology opens up an entirely new segment for gas-powered trucks and, in combination with the use of LNG (Liquefied Natural Gas) in heavy-duty trucks; it makes it possible to use gas for long-distance transport as well. Beside this, it is both more energy efficient and more powerful than its current standard gas-powered counterparts, can lead to cost benefits as well as considerably reduce carbon emissions.

"The main strength in this context is that the environment, technology and economy go hand in hand. Only then can decisive changes be made," adds Lennart Pilskog.

However, for these decisive changes to be implemented on a broad front, access to liquid gas must be increased. A well-developed infrastructure, with more LNG filling stations, is essential to enable gas-powered trucks to be used in long-distance transport in the first place.

"The infrastructure needs to keep pace with technological developments if our products are to be used in the optimal way," concludes Lennart Pilskog.

The Volvo FM Methane-Diesel

The Volvo FM Methane-Diesel is powered by up to 75% natural gas or biogas – both of which consist of methane gas and Volvo Trucks is the first manufacturer in Europe to present this technology.

The Volvo FM Methane-Diesel is both more energy efficient and more powerful than its current standard gas-powered counterparts. This has been demonstrated since 2008 in commercial fuel tests that have been run in Sweden, the UK and the Netherlands where the infrastructure for liquid gas is most developed. In many European countries, LNG is also less expensive than diesel, which will result in cost benefits for the customers who choose to operate a Volvo FM Methane-Diesel in the future.