M8 Recovery's FH is smarter than the average bear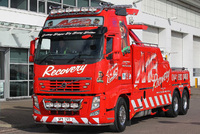 Alec McManus of Glasgow-based M8 Recovery has added another spectacular Volvo wrecker to his fleet. With specialist recovery bodywork, the Boniface Engineering Trident recoverer will be pulling home trucks and coaches that have fallen by the wayside on Scotland's busy east-west motorway.

Alec runs a mixed fleet of nearly 40 specialised recovery vehicles and this latest £400,000 monster packs a 50 tonne crane-lift and a 150-tonne train weight under the bright red bodywork. It has a cuddly side to it too. Alec says, "We like to give each of our trucks a cartoon identity with a bespoke livery." This latest FH13-460 6x4 has been liveried as 'Yogi Bear' who no doubt keeps his eyes peeled for the Rangers on the motorway.

Alec, or Junior as he is better known to his many friends, commented that it was the solid product reputation and excellent dealer support for his previous Volvos that meant he did not hesitate to take another FH. "The Volvo is bulletproof" he said. Adding, "I'd have an all-Volvo operation if I could, but I need to run a mixed fleet to satisfy the variety of contracts I have."

The roll call of M8 Recovery's PSV contracts are straight from the top flight of local and national names in bus and coach circles, including Stagecoach, First Bus, Arriva and Parks of Hamilton.

Alec runs a 'one-man-one-truck' policy at M8 Recovery and the new 13-litre Volvo FH is driven by Paul O'Neill who, quite simply, "Loves it to bits." The Globetrotter XL spec cab and a manual gearbox make it "perfect for the job", says Paul. Already running two Volvo FMs and another FH, Alec is about to place a further order for another FH from Volvo Truck & Bus Centre North and Scotland, Cardonald.
For more information, visit m8recovery.com.