Richbrook Official Vauxhall Collection number plate surrounds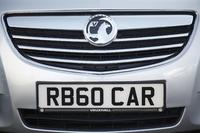 There's no getting away from having to run a regulation EU number plate on your Vauxhall, but thanks to those stylish chaps at Richbrook, you can at least make it look good at the same time.
Richbrook's stylish new number plate surrounds are the latest addition to its Official Vauxhall Collection. The new surrounds are precision moulded from ABS plastic and will accept any size of regulation number plate including the popular 'raised letter' or embossed type.
The surround itself simply screws or sticks onto the bodywork. The former being made blissfully simple thanks to a multitude of hole options pre-moulded into the frame. This allows pre-existing mounting points in the car to be use, negating the need for any further drilling of the bodywork. With the frame securely attached, the outer frame unclips to allow plates to be easily fitted or removed. This also makes it an ideal trailer or caravan accessory.
The Vauxhall logos are perfectly screen-printed onto the surround in the highest quality ink, proving imperious to both the elements and the everyday onslaught of the automatic carwash. So add a dash a style to your registration, without lining the DVLA's pockets any further. Yours for just £14.95 each.
For more information on the Richbrook range of high quality car accessories or to buy online, visit richbrook-styling.co.uk.