The self-build bug hits the South-East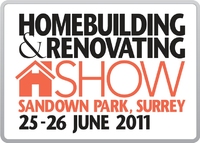 Avid self-builders in South East England are snapping up plots at their fastest rate ever. 43 per cent of plots available in the region have been sold within the last year alone according to figures released by The Homebuilding & Renovating Show*.
Jason Orme, spokesperson for The Homebuilding & Renovating Show, says: "There is growing interest in building a home as it can be up to 30 per cent cheaper compared to the cost of buying a similar sized house. With thousands of new homes currently required in the South-East region to meet the housing shortage, building your home can be a viable alternative. Plotfinder.net has a number of plots for sale across the country with an incredible 507 plots available in the South-East alone."
Orme is the editor-in-chief of the Homebuilding & Renovating magazine and lives in his own self-build home. In January, Housing Minister, Grant Shapps, announced that he intends to ease the barriers to self-build by cutting planning red tape and bureaucracy and encouraging more available finance.
To persuade more people to enter the self-build market, more and more mortgage lenders are offering self-build products. Norwich and Peterborough Building Society, for example, is now offering up to 80 per cent of the completed property value. Orme believes an increase in such mortgages would make it much easier for self builders to access finance and again stimulate interest.
Jason Orme will be sharing experience and expertise on self-build and renovation at the Homebuilding & Renovating Show, to be held at Sandown Park, Surrey from 25-26 June. It will provide self builders with a whole host of new and innovative design ideas. This year's show is even bigger and more interactive. It features for the first time the new 'Tricks of the Trade' live demonstrations conducted by the shows resident DIY Doctor. Qualified tradesmen will take you through a series of top tips which will save you money. Visitors can enhance their knowledge with practical workshops, eight daily free seminars, 24 specialist master classes and over 180 exhibitors.
For more information and tickets, visit: homebuildingshow.co.uk
Tickets are £5 in advance or £8 on the door (children under 16 go free).
*The Homebuilding & Renovating Show is based in Bromsgrove, Birmingham and owns plotfinder.net which registers plots and renovation properties for sale. Figures are based on plots registered.