House builder helps annual garden event to blossom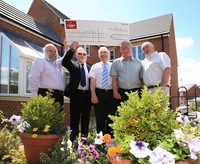 Forget the RHS Chelsea and Tatton Park flower shows – the arrival of summer has seen Market Rasen turning its attention to horticultural highlight of its own.
This year sees the return of the Market Rasen Open Gardens event, aimed at raising funds for the local Rotary Club and other good causes.
Many gardens around the town will be opening their gates to offer inspiration to visitors during the event, which is a regular date in the town's calendar.

As well as open gardens, a series of additional attractions are planned including a Flower Club Show at the Festival Hall, Summer Market on the Town Square and an exciting programme of entertainment to attract the local community and businesses, as well as many visitors to the area from neighbouring towns and villages.
Helping to kick start plans for the event on Saturday July 30 through sponsorship is developer Linden Homes, given that Market Rasen is the location of its popular De Aston Park development.
Linden Homes connections and marketing manager Gizzy Murray said: "This is a great opportunity for us to give something back to the community, which stages this highly popular event to raise money for local good causes.
"We are very proud to be involved with the Market Rasen Open Gardens event, and appreciate how much hard work goes into preparing for this widely-attended event – not to mention the many keen gardeners who showcase their pride and joy."
Rotarian Derek Anderson, chairman of the Market Rasen Open Gardens and Summer Market working Party, said " We are hopeful that the Open Gardens and Summer Market, thanks to help from Linden Homes and the many volunteers taking part, will raise some funds for the Market Rasen Rotary Club, which is currently supporting Rotary International Projects such as Shelterbox and Polio Eradication Worldwide.
For more information, please visit: lindenhomes.co.uk