Fun and freedom on a family holiday in Dubai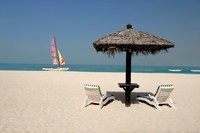 With a family's-worth of demands to juggle, holidays with your children can often be more of a hassle than a heaven.
You dream of spending quality time unwinding and relaxing in the sunshine, taking in the odd spa treatment or romantic meal. In reality, you're left running around after the children trying to keep them entertained.
Le Royal Méridien Beach Resort + Spa, situated on the golden sands of the Jumeira beach in Dubai prides itself on being able to offer the service to ensure the whole family has a holiday to remember.
From its rooms to restaurants, Kids club to leisure pursuits and babysitting facilities, the hotel aims to give a truly 'royal' experience.
Child's play at the Penguin Club
The Penguin Club at Le Royal Méridien Beach Resort + Spa has long been a popular feature of the resort for both guests and club members and has recently undergone a refurbishment.
When young guests arrive at the hotel, a Penguin folder gives details of the week's menu of activities, and also contains wet or hot weather distractions such as puzzles, drawing and colouring books.
While parents lounge under their palm trees worry-free, the Penguin club team takes care of the children. Open daily there is a constantly-changing focus to entertain and challenge young minds. From shell painting to clay modelling, squash, volleyball and badminton (mini versions) to banana boats and 'donut' rides, life's a beach for children at Le Royal Méridien Beach Resort + Spa.
As well as an air-conditioned indoor club-house featuring a mini cinema, soft-play gym and specially created role play area for playing 'house', there is also a playground and plenty of opportunities for beach games and fun in the pool. Toddlers and children will also delight at the built-in wall aquarium filled with tropical fish.
Bridge the dining divide
While mum and dad can tease their taste buds with everything from celebrity dining at Rhodes Twenty10, or Maya by Richard Sandoval, to Italian delicacies and seafood specials at the 14 delicious restaurants and luxurious lounge bars, kids may not be as adventurous.
A children's menu is available throughout Le Royal Méridien Beach Resort + Spa, so they can opt for healthy favourites like fresh chicken with salad or chips.
And when mum and dad want to spend time and dine alone, the children will be taken care of thanks to the dedicated babysitting service.
Sleep soundly
A number of the stylish, spacious suites in the hotel can cater for an additional children's bed, or for a little more privacy, interconnecting rooms can offer a sanctuary for parents with the security of knowing that the children are nearby.
And if the kids are missing the television and internet too much during their stay, each room has its own personalised entertainment and IT system. It includes satellite TV with DVD/CD and video player, complete with full music and movie libraries, plus high speed internet access as well as other excellent facilities.
For further information on Le Royal Méridien Beach Resort + Spa Dubai, visit: lemeridien.com/royaldubai