National housebuilder announces village cricket deal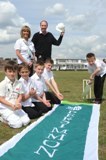 The UK's most successful housebuilder, Persimmon Homes has teamed up with former professional cricketer and legendary commentator, Jonathan Agnew, to announce that it is to sponsor the UK's prestigious village cricket competition.
The Village Cup – which will now be known as The Persimmon Village Cup 2011 - is the principal cup competition for village cricket clubs in the UK. It launched in 1972, the same year Persimmon formed as a company, to promote village cricket and gives amateur players in 286 teams – 31 of which are taking part for the first time - the chance to compete at a national event, with the final played out at Lords Cricket Ground where they will receive the coveted NVC trophy.
Steve Roche, group communications director for Persimmon plc, said: "We are committed to nurturing young, up-and-coming talent; be that on the cricket pitch or with young school leavers who join our trainee schemes. We are proud to be associated with a competition that has such a rich history - this is one of the most loved summer fixtures and we'll be following each of the 286 participating teams with interest."
The sponsorship announcement is an extension to Persimmon's 'Healthy Homes' campaign which highlights how residents can enjoy a healthier life both inside and outside the home. Steve concludes: "We have recently launched our 'Grow Your Own' schools competition where we urge the nation's youngsters to spend time getting back to basics to grow their own produce. Getting out in the great outdoors should be encouraged and ultimately, we hope The Persimmon Village Cup will tempt youngsters to get more involved with the sport."
The National Village Championship was the brainchild of Ben Brocklehurst, the then owner of The Cricketer magazine, and Aidan Crawley, the chairman of the National Cricket Association. It was set up to showcase the strength of the village game across the country, the spirit of the clubs and of the thousands of players taking part. For more details regarding this year's competition – including information regarding regional and national rounds and how fans can support their local team – visit: thewisdencricketer.com
Persimmon Homes builds around 10,000 new homes each year in more 400 prime locations nationwide. For information on your nearest Persimmon Homes development, please visit: persimmonhomes.com