Renault Trucks opens the doors on refurbished London dealership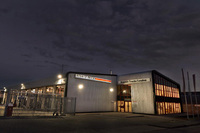 Renault Truck Commercials has invested over £175,000 in the refurbishment of its strategically located London dealership, at Park Royal. The refurbishment includes a new driver's waiting area with refreshments, freeview TV, showers and free Wi-Fi access, a refitted parts and service reception and a totally refurbished 12 bay workshop.

Renault Trucks Commercials operates 11 dealerships located across England and Wales and is the largest dealer group in the Renault Trucks UK network. The group is headed up by managing director, Christophe Blazere. "We took the decision to invest in the refurbishment of Renault Trucks London in Gorst Road at Park Royal, to enable us to provide a much high standard of facility and service to our customers," he says. "The Park Royal location is very strategic for us, being well positioned to support commercial vehicle users operating in and around the capital. It is the latest step in our ongoing development plan to improve standards across the Renault Truck Commercials network."

Renault Trucks London was originally opened in 1986, offering the sales and service of the full Renault Trucks range of vans and trucks from 2.8 to 44 tonnes. Today, the dealership also offers all makes parts and servicing for commercial vehicles and associated equipment, such as trailers and specialist bodies, making it a one-stop-shop for operators that are either based at or travelling into the city.

In addition to the internal enhancements, the exterior of the building has been improved, with investment in better site access via a wider entrance gate and new parking facilities, making it easier for customers to bring vehicles on and off site. Security at the site has also been enhanced, with a new entrance/exit barrier system and new exterior lighting.

Investment in the workshop includes new tools and equipment for optimum efficiency, as well as the refurbishment of bay shutter doors and vehicle lifts. Furthermore, the floor and walls have been repainted and a new staff changing area and restroom have been installed.

Improvements have also been made in the parts department, with a new counter serving the workshop and the introduction of a daily parts delivery service to customers in the area.

"The physical improvements we have made to the facilities at Renault Trucks London are substantial," comments Blazere. "However, there is little point in investing in the facilities if we do not also invest in the staff. "We have invested heavily in staff training, with fully trained and dedicated reception and parts counter staffs, who are focussed on improving customer service levels through their knowledge, expertise and communications skills."

David Codd, who was appointed as Depot Manager of Renault Trucks London in August 2010 and oversaw the refurbishments adds, "I have over 26 years experience of providing customer service in the commercial vehicle industry and it has been a pleasure to see the positive reactions from our existing customer base to the developments at Renault Trucks London.

The investment proves our commitment both to the London area and to the continued support of our customers. We are confident that the improvements we have made will help us to attract many new customers and we look forward to welcoming them accordingly."

Renault Trucks London is located at Gorst Road, Park Royal. NW10 6LA. Tel: 0208 965 9181. The workshop is open from 07:00 – 22:00 hours Monday to Friday and 07:00 – 12:00 hours on Saturday.