Ten great beach hotel deals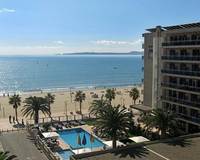 A gorgeous beach, warm sand to bury your toes into and crystal clear water are the key components of a perfect summer holiday.

Add to that a hotel with top-notch service, a great pool and comfortable rooms, and chances are you'll remember this holiday for a long time to come! The hotel price comparison website trivago.co.uk has put together a list of ten such hotels located right on the beach in some of Europe's most popular beach holiday destinations. From Majorca and Crete to Bulgaria and the Turkish Riviera, you'll find beautiful hotels with beach access and great deals that won't break your travel budget.

Here are the ten beach hotel deals, ranked in order of hotel rating as given by travellers on trivago and its partner review sites:

1. Hotel R2 Rio Calma (Fuerteventura, Spain)

R2 Rio Calma is a luxurious four-star property, located on Fuerteventura, one of the Canary islands. The first thing visitors will see is the spectacular views of the surrounding Jandia peninsula. The colonial-style hotel is characterized by rounded arches and panoramic windows that give the hotel a light, Mediterranean atmosphere. Along the beach, activities such as sailing, scuba diving and windsurfing offer adventurous guests a multitude of exciting opportunities, and at night, the à-la-carte restaurant "Pájara" offers local delicacies and a romantic setting. For early risers, a special highlight is the stunning sunrise over the Atlantic Ocean, which can be observed from any room in the hotel.

Hotel available from 38 pounds per person per night including breakfast via thomascook.de (19.08.2011 – 26.08.2011).

2. Hotel Aks Porto Heli (Peloponnes, Greece)

Hotel Aks Porto Heli is located in the picturesque Porto Heli Bay in the Greek Peloponnes. The first impression of the hotel is a grandiose one, as guests step into a spacious and modern lobby made of glass and marble. The rooms follow suit with elegant furniture and natural colours. The beach is only a few steps away, and here guests can cool off with a refreshing dip in the Mediterranean or stretch out under a parasol. The "Alias" restaurant on the hotel's roof serves Mediterrannean cuisines and drinks and offers a splendid view over the Peloponnesian bay.

Hotel available from 36 pounds per person per night via Otel.com (20.08.2011 – 27.08.2011).

3. Hotel Capital Coast Resort & Spa (Cyprus)

Located in the Cypriot city of Paphos, the Capital Coast Resort & Spa is an idyllic place to visit. After spending the night in one of the hotel's 113 bright and modern rooms, guests can start exploring Cyprus' wild countryside or enjoy the hotel's comforts. Opportunities to relax are diverse, with not only a large pool and a beach nearby, but also water sports such as jetskis or paddleboats available. Diving enthusiasts can discover not only the colorful fish of the Mediterranean world, but also exciting shipwrecks. A nightcap on the terrace is a great way to finish the day in style.

Hotel available from 52 pounds per person per night via lastminute.com (10.08.2011 – 17.08.2011).

4. Hotel Sol S'Argamassa (Ibiza, Spain)

The family-run Sol S'Argamassa hotel is located in a bay between Santa Eulalia and Es Cana on the Balearic island of Ibiza. The hotel has 217 rooms, each one decorated in summery yellow and orange colours. Water sports in this four-star hotel include windsurfing, catamaran sailing and paddleboats, while guests who prefer to stay on dry land can try their hand at rock climbing or rope obstacle courses. In the evenings, musical acts and shows are performed in the lounge.

Hotel available from 49 pounds per person per night including breakfast via thomascook.de (25.08.2011 – 01.09.2011).

5. Hotel Bali Star (Crete, Greece)

Hotel Bali Star can be found in the fishing village of Bali, on the Greek island of Crete. It has 62 modern rooms whose warm colours blend harmoniously with the natural landscape. The hotel is ideal for guests looking for a calm, peaceful place to spend their holidays, and the pebble beaches and fishing spots lend themselves well to this goal. Adventurous guests might want to try the various boat trips, diving courses and hiking trips on offer. The hotel's restaurant uses mainly products from the island, and cultivates its own vegetables and olive oil. On balmy summer evenings, dinner in the garden restaurant underneath the olive trees and the open Cretan sky is an especially wonderful experience.

Hotel available from 43 pounds per person per night including breakfast via Booking.com (24.08.2011 – 31.08.2011).

6. Hotel Eurotel Altura (Algarve, Portugal)

The hotel Eurotel Altura can be found directly on the white beach of "Praia de Altura" in the Algarve. Sports opportunities abound; golfers can work on their handicap in one of the six surrounding golf courses, while others can play tennis or football. For those travelling with their families, the hotel's kids club offers a wide range of games and activities, such as treasure hunts on the beach, miniature golf and pool games. The hotel only a few steps away from a private beach, and guests can enjoy drinks at the beach bar, relax on the white sands or stroll along the dunes.

Hotel available from 43 pounds per person per night including breakfast via Tui.com (14.07.2011 – 21.07.2011).

7. Hotel Monterrey (Costa Brava, Spain)

The Monterrey Hotel is located directly on the beach of Santa Margarida in Spain's Costa Brava. This holiday hotel prides itself on its friendly staff and cozy atmosphere. The guest rooms are comfortable and offer plenty of room for beach toys and umbrellas. The wide sandy beach is located directly across from the hotel, and at 750 meters in length, there is more than enough room to build sand castles or play a game of beach volleyball. The hotel's restaurant serves Mediterranean and international cuisine.
Hotel available from 45 pounds per person per night including breakfast via Olotels.com (29.08.2011 – 04.09.2011).

8. Hotel Pollentia Club Resort (Majorca, Spain)

Hotel Pollentia Club Resort is located in the north of the island of Majorca. The entire resort stretches over 85,000 square meters with 508 rooms and offers guests three restaurants and four bars. The restaurants range from Mediterranean cuisine to seafood, with hearty buffet breakfasts and barbecue dishes of all kinds. Water enthusiasts will discover freshwater pools and a natural beach, and windsurfing and kayaking courses are regularly held. After an action-packed day, a stroll along the beach to take in the scenery is a great way to unwind.

Hotel available from 43 pounds per person per night including breakfast via Vivastay.com (23.07.2011 – 30.07.2011).

9. Hotel lti Neptun Beach (Sunny Beach, Bulgaria)

A small promenade is all that separates hotel Iti Neptune Beach in Bulgaria from the sandy beaches of the Black Sea. The hotel's large lobby is very welcoming, as are the 286 comfortable rooms. Located right on the beach, the hotel is ideal for water lovers. Whether it's an exciting ride on a banana boat, building sandcastles in the sand or snorkeling in the gorgeous waters, there's something for everyone. In the evening, guests can enjoy a cocktail on the hotel's terrace and enjoy its beautiful sea view, or sing along to favorite hits in the Karaoke bar.

Hotel available from 39 pounds per person per night including half-pension via Booking.com (23.08.2011 – 26.08.2011).

10. Corinthia Club Hotel Tekirova (Turkish Riviera, Turkey)

The Corinthia Hotel Tekirova is a luxury beach hotel located in the Turkish Riviera. This five star hotel offers 525 modern rooms, and among its many highlights is a spa area where guests can enjoy being pampered and an aqua park whose water slides will definitely go down well with a younger audience. During the day, guests can stretch out on comfortable deck chairs at the beach or go snorkeling. The Apollo bar and nightclub invites guests to enjoy an evening of fantastic music, cool drinks and a chilled out party.

Hotel available from 50 pounds per person per night all inclusive via Tripsta.com (20.08.2011 – 24.08.2011).

For more information and bookings, visit: trivago.co.uk

The list of hotels is based on the best rated European beach hotels available on trivago.co.uk which are located directly on a beach and whose prices are under 50 pounds per person per night.