Considerable media interest in Volvo Trucks' alternative drivelines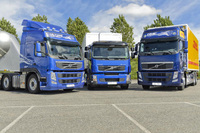 Over a period of two weeks, more than 90 journalists from many parts of the world have been visiting Volvo Trucks in Gothenburg to test drive three of the company's most environmentally-optimised vehicles: the Volvo FM MethaneDiesel, Volvo FE Hybrid and Volvo FH DME.

"We want to show the superb quality of these trucks. They are efficient vehicles that also bring us closer to a solution for sustainable transportation," says Lars Mårtensson, Environmental Director at Volvo Trucks.

Normal conditions
Sales of hybrid and methane-diesel trucks got under way recently on selected markets, while bio-DME (dimethyl ether) is a 'next-generation' fuel that is currently undergoing field tests. The journalists had the opportunity to test the trucks' performance and driveability on roads that reflect the traffic situations experienced by customers in their daily operations.

The Volvo FE Hybrid, which is designed primarily for urban distribution and refuse collection operations, is therefore being test driven along a route characterised by frequent stops and starts.

"I'm very impressed," said Fabian Schmid from the Swiss magazine 'Strassentransport'. "This is the first time I've driven a 20-tonne truck that ran totally silently for more than a kilometre. It's really fascinating; I've never experienced anything like it before."

Gas-powered trucks for regional transportation
Unlike the company's electric hybrid, the Volvo FM MethaneDiesel and DME trucks are built for longer-distance regional operations, making them unique among gas-powered trucks.

"From the driver's viewpoint, I see no disadvantages with methane-diesel," says Ralf Becker from German magazine 'Lastauto Omnibus' as he puts the vehicle through its paces. "The truck is fully loaded, it weighs almost 40 tonnes, yet there's no difference to driving a conventional diesel. It's as comfortable as any other Volvo truck," he continued.

Alternative drivelines crucial for the future
Despite the new environmentally optimised trucks' excellent performance, a number of challenges still remain: the hybrid's battery technology has further improvement potential, better distribution and more refuelling stations are essential for liquid methane gas and it is necessary to implement large-scale production of bio-DME.

"It's important, both for us as a company and for other actors throughout the world, to lobby on behalf of alternative fuels and to come up with more solutions that reduce the impact of transport on the climate. This is a crucial issue for an environmentally sustainable society," explains Lars Mårtensson.