Protect your big day with wedding insurance cover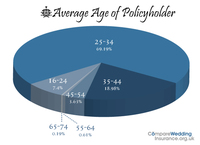 With the excitement of dress fittings, table settings and hen and stag parties, it's not surprising that many couples forget to protect their big day with adequate wedding insurance.
But new figures show three-quarters of brides-to-be are risking losing thousands in lost deposits and last-minute hitches as companies go under in the recession.
Only 25% of couples purchase wedding insurance*, which can cover you for lost deposits, suppliers going out of business or problems on the actual day.
CompareWeddingInsurance.org.uk, the online big day policy comparison service, looked at a sample of over 2,000 wedding insurance policies purchased through their website between 1st June 2010 and 31st May 2011 and the results are one of the most accurate snapshots of wedding day finance in Britain today.
They found that, out of over 2,000 couples, the average cost of the 2010/2011 big day is £12,541.
"Despite many organisations quoting 'average wedding cost' figures, I've yet to see anyone really substantiate them," said Managing Director Adam Leyton.
"With such a large sample, our poll has produced a fairly accurate average wedding cost."
While many do not take out cover, premiums ranged from just £15.49 to £355.52. The average premium was just £51.55, a mere drop in the ocean for many wedding budgets.
The most commonly claimed for thing is bankruptcy/liquidation of the wedding dress supplier. Other common claims include loss of wedding photography, marquee damage, adverse weather and death or injury of a family member**.
Compare Wedding Insurance also found that, on average, couples purchase their wedding insurance policy eight months before the big day. The data showed a range of the day before (there were a few of these!) through to over two years before the big day.
The average purchaser was aged 31, with policy holders ranging from 19 to the grand old age of 72.
So who makes the actual wedding insurance purchase? The team were surprised to find the groom taking more control of the insurance, with 55% of the policyholders being male.
"From my experience in the wedding industry, it seems that it's generally females that make the purchasing decision and so this is very interesting to see that over half of all purchasers of wedding insurance are male," said Mr Leyton.
The wedding insurance market is worth an estimated £4million and is expected to grow 50% to £6million by 2014*. But with many small firms struggling to find finance in the credit crunch, adequate cancellation cover is more essential than ever.
The Compare Wedding Insurance team recommend all brides and grooms-to-be consider cancellation cover to protect their big day and give peace of mind in the run-up to the wedding. Premiums start from around just £20.
"But contrary to common belief, wedding insurance doesn't actually cover you for 'cold feet!'"
* Source: Datamonitor
** Source: Voyager Insurance Services Ltd