Fleet renewal partnership begins for Bywaters as new Volvos roll in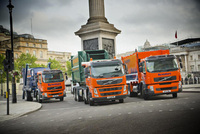 The delivery of 52 new Volvo trucks to London and south-east England's premier recycling company, Bywaters is well underway.

A total of 14 FL 18 tonne skip-loaders, 17 FL, FE and FM hooklifts and 21 FE compactor bodied Rear End Loader (REL) Refuse Collection Vehicles (RCVs) will have entered service with the Bow and Leyton, London-based company by late summer.

In a ground-breaking deal for the industry as, not only were the truck chassis supplied by Volvo Truck and Bus Centre London, but also the bodywork, telematics, PM weighing system, maintenance contracts for trucks and bodywork, driver development programme and driver CPC package. Volvo Financial Services are also involved in supporting this large-scale fleet renewal project in what amounts to a comprehensive single sourcing exercise.

As Bywaters operate around 70 specialist trucks, delivery of the new Volvos almost amounts to a complete renewal of the company's high-profile waste collection fleet. All the vehicles are covered by a Gold Repair & Maintenance contract and Volvo Truck and Bus Centre London's Barking Dealerpoint will be handling maintenance of not only the truck chassis, but also the Incomol and Multilift bodywork.

Bywaters Deputy Managing Director Mike Pusey says that Volvo won the business through a competitive tender process which took into account their willingness to work in long term partnership with the company on reducing emissions, noise and optimising uptime.

"Bywaters is totally focused on delivering the highest levels of customer service to blue chip businesses in the capital and the region," he says, adding, "As our customers' needs change and we respond with the development of ever more innovative services, we felt it was essential to have our vehicle supplier on board on a partnership basis. Ideally, a partnership where we adopt a transparent method of working together for our mutual and our customers' benefit. This is particularly important in terms of Bywaters having access to and operating the latest, Euro 5 low emission technology and achieving best in class vehicle availability. With the new Volvos and especially the use of Dynafleet telematics, we will be in a position soon to provide our customers with detailed environmental reports that show how we are reducing vehicle emissions as part of our long term goal of becoming a zero carbon business."

For more information, visit bywaters.co.uk.