Create your own whale tale with Hervey Bay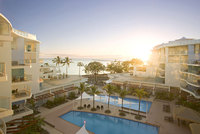 The majestic humpback whales will be the focus of celebrations on the Fraser Coast next month for the annual Hervey Bay Whale Festival.

The whale watchers paradise is inviting everyone along on Saturday, August 6, for 12 hours of free non-stop celebration rolled into three events to excite the whole family - the Illuminated Street Parade, McDonalds Kids Festival and the live Whale Aid Concert.

The Hervey Bay Whale Festival not only marks the annual return of these magnificent giants to the town's protected shores, but aims to raise awareness of the plight of the Humpback Whale.

Meet whale watch operators, enjoy arts, markets, a street parade, workshops and activities, carnival rides and more family fun, all the while listening to continuous live original music from an all-Australian line up.

To truly make the most of this event, relax in town and take advantage of Mantra Group's three stylish accommodation options all ideally located close to the celebrations – Mantra Hervey Bay, Peppers Pier Resort and BreakFree Great Sandy Straits.

Plus for a really big whale tale to tell all your friends, each resort is offering fabulous Whale Watching packages that include accommodation and tickets for a half-day Whale Watching Cruise aboard the Quick Cat II with Hervey Bay Whale Watch, which is hydrophone equipped for listening to whale songs.

The Couples Packages include accommodation and two adult tour tickets, while the Family Packages of accommodation and four family tickets comprise two adult tickets and tickets for two children aged between 4 and 14 years.

So get festive and experience your own whale watching adventure by choosing a package from three of Hervey Bay's most popular holiday accommodation properties:

PEPPERS PIER RESORT: Located on the esplanade opposite Urangan Beach, this award-winning resort boasts rooms and suites with views of the pool, Great Sandy Strait or Fraser Island, plus a stunning lagoon swimming pool, fully-equipped gymnasium, on-site restaurants and the indulgent Spa Botanica.

Couples Whale Watching Package: From $270* in a One Bedroom Suite. Extra night from $208* per night.

Family Whale Watching Package: From $445* in a Two Bedroom Suite. Extra night from $293* per night.

Visit peppers.com.au/pier-resort for more information or to book.

MANTRA HERVEY BAY: The region's only absolute marina-front property is within walking distance from the Urangan Boat Harbour and is surrounded by the marina precinct's assortment of restaurants and shopping. This sophisticated resort offers magical marina views, capturing the natural charm and ambience of its beautiful location, along with a resort pool, sauna and exercise room.

Couples Whale Watching Package: From $209* in a Hotel Room. Extra night from $140* per night.

Family Whale Watching Package: From $328* in a Two Bedroom. Extra night from $242* per night.

Visit mantraherveybay.com.au to book.

BREAKFREE GREAT SANDY STRAITS: Offering exclusive direct beach access, this resort features uninterrupted views of the bay and marina, a 25-metre lap pool and tropical style pool, tennis courts, bicycle hire, kids' playground, games room, sauna and more.
Couples Whale Watching Package: From $199* in a Studio. Extra night from $120* per night.

Family Whale Watching Package: From $290* in a Two Bedroom. Extra night from $192* per night.

Visit breakfreegreatsandystraits.com.au.

For event information visit: herveybaywhalefestival.com.au

*Subject to availability. Two night minimum stay applies for each package. Valid for travel between 01/08/2011 – 31/10/2011.