Fragile beauty in the Maldives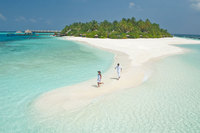 Famed for its fragile beauty, the Maldives has long been a top destination for those wanting to get closer to nature, offering sugar-white beaches and clear blue seas.

However this tiny cluster of stunning atolls and islands is also one of the most delicate environmentally. Located in South Nilandhe Atoll, Vilu Reef Beach & Spa Resort is a green and fertile resort which actively protects the local environment through tending to its underwater ecosystem, using locally-grown produce in its restaurants and regularly planting palm trees - promising guests the ultimate in idyllic natural beauty.

Vilu Reef is known locally as the 'Garden Of Eden' for its lush tropical vegetation and countless coconut palms. In fact, honeymooners staying at this small island retreat are invited to plant a tree during their stay, leaving a small legacy of their stay. As well as boasting over 800 palm trees, one side of this 122-room resort boasts a protected lagoon and the other has a beautiful reef, with a greater variety of corals and reef fish than in any other atoll.

Even the accommodation at Vilu Reef is inspired by nature, offering understated laid-back luxury and traditional thatched roofs. The beach villas are actually modelled on the rare Maldivian nautilus shell found in its lagoons and corals, with circular walls and a spiral roof!

As 99 per cent of the Maldives' low-lying coral islands are covered by sea water, climate change and rising sea levels are of great concern for its people. Vilu Reef's sister resort Olhuveli Beach & Spa Resort has therefore set up a number of initiatives to protect its abundant coral reefs and wealth of endangered sea creatures – from manta rays to turtles.

Located on the South Male Atoll, Olhuveli has recently added six artificial structures to the natural reef, thus increasing the existing underwater ecosystem. What's more, on special occasions such as PADI Project Awareness Day, Environmental Day and Ocean Day, the dedicated staff clean their house reef, even encouraging guests to participate, which is great news for its marine life.

While the islands of the Maldives are small, they are far from fruitless. Vilu Reef's plentiful coconut trees are a source of ingredients for a number of dishes served at the resort – and are a vital ingredient in its classic coconut cocktail, which is offered to guests on arrival. While other ingredients for the menus at both Vilu Reef and Olhuveli come from a local agricultural island, which grows everything from pumpkins to papayas and reduces the amount of air miles used to source food.

Thomson Tailormade (thomsontailormade.com) is offering seven nights at Vilu Reef Beach & Spa Resort from £1,599 per person (saving £323 per person), based on two sharing. Available for departure on 5 November, the price includes return flights from Heathrow with Qatar Airways, accommodation on a half-board basis, resort seaplane transfers, taxes and surcharges. Facilities include an infinity pool, fitness room, Sun Spa, table tennis, volleyball court and a selection of restaurants and bars.