Long awaited return of Hanna Francis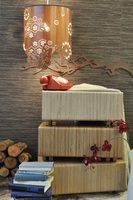 Furniture and interior product designer Hanna Francis Laikola is celebrating her much anticipated return after a period of bad health with the launch of her perfected Hanna Francis range including her renowned VIILUJA occasional table, as well as stylish lights, decorations and bird and tree hooks.
At a time where furniture trends are all about the sustainable and simple with intricate detail, Francis Laikolas' return couldn't be better timed. Francis Laikola won several awards including the 'Future of Design' award presented by DKNY for her VIILUJA occasional table which was then showcased in the flagship store on London's Bond Street, but she then had to take three years sabbatical due to a gastro illness which is now firmly behind her.
Of her come back, Hanna Francis Laikola says: "I was elected to go to the New Designers show straight from university using my signature look of burning a pattern into wood. I won the DKNY award and was in talks with major retailers like Heals and Marks and Spencers when I became ill with C-Diff and was forced to take a career break. My passion for my work kept me going and I was able to do a small amount of skilled interior design work, but I am delighted to be back where I always wanted to be, designing beautifully crafted interior pieces."
Francis Laikola is already tipped as a hot new designer in Finland. Mari Kauppinen, from the MariDeco Home Store in Helsinki says: "The Hanna Francis signature product range is a real hit in our MariDeco shop. Our customers simply love the designs! We are proud to have the brand in store."
The Hanna Francis brand features furniture and product designs that are inspired by nature, simple in form and structure. Designs include trees, lakes, butterflies, roses and other flowers. As well as being offered the signature product range, clients can choose a bespoke service that includes design and manufacture. One-off commissions are undertaken for private clients.
Francis Laikola combines traditional techniques with a contemporary and dynamic approach, specializing in furniture and interior products that exude Scandinavian and English style. Scandinavian simplicity and English charm are the qualities that make the Hanna Francis brand unique.
For more information, visit hannafrancis.com.