Crest Nicholson raises £16,000 for Cardiff school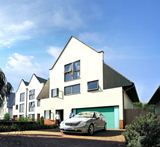 Pupils from Greenhill School in Cardiff will be able to enjoy school trips in style from now on, as they have been presented with a new Sunshine coach, thanks to a substantial donation from Crest Nicholson.
The award-winning housing developer has been a fundraiser for the Variety Club since 2005 and has donated £16,000 towards the cost of a new coach; the school, located in Rhiwbina, just outside of Cardiff, has also contributed some of the cost.
The presentation was made yesterday (Thursday 7 June) in front of several distinguished guests, including the Rt Hon The Lord Mayor of Cardiff, Councillor Professor Delme Bowen; The Lady Mayoress, Ms Pamela Morgan; The Deputy Lord Mayor of Cardiff, Councillor Jayne Cowan; and Welsh icon Stan Stennett.
Greenhill is a small special school for secondary aged youngsters who experience a range of special needs. All of the pupils require specialist support and intervention and some pupils also have medical or sensory needs.
Jane Counsell, headteacher at Greenhill School, said: "We're over the moon to receive such a fantastic gift from Crest Nicholson. Their generosity and support over the past few years will now enable our pupils to visit more places than ever before: life skills trips, educational outings, residential breaks and accessing the PE facilities at the local sports centres and University. We want to say a huge thank you to Crest Nicholson and the Variety Club, as it will make such a difference to our pupils."
Laura Osborne, sales manager for Crest Nicholson, said: "We're absolutely delighted to have been able to make such a substantial donation to the Variety Club, which has led to the purchase of a new Sunshine coach for Greenhill School. The charity is one we have supported since 2005 and have raised in excess of £337,000 through various fundraising activities, such as charity dinners. We now have a development in Penarth, so we're pleased that we're able to help support the South Wales community as a result of our fundraising."
Michael Haszko, Deputy Head of Fundraising at the Variety Club, said: "The Variety Club is enormously grateful for the generous and continuing support of Crest Nicholson. The commitment of their staff and management over the years has meant that hundreds of children have experienced activities they would otherwise never have and which most of us take for granted. We receive no Government funding and rely entirely on the supports of organisations such as Crest Nicholson, to continue our work helping to improve the lives of disabled and disadvantaged children and young people."
With beautiful views across the Marina, Penarth Heights offers a range of stylish homes and apartments, suitable for a wide variety of purchasers, from first time buyers to growing families or those at retirement age. The development of 377 properties includes a mix of contemporary one, two, four and five bedroom homes on the first phase – a small percentage of which will be affordable homes.
Prices currently start from £139,000 for a one bedroom apartment, two bedroom flats from £170,000, two bedroom end terrace coach houses with a garage from £165,000, four bedroom houses available from £420,000 and five bedroom houses available from £850,000. For more information please call into the on-site Sales and Marketing Suite (open 10am-5pm daily).