Mallorca's Puerto Portals enjoys 25th anniversary celebrations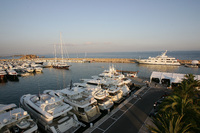 July sees the 25th anniversary celebrations of one of Mallorca's most prestigious and renowned marinas – Puerto Portals. Standing shoulder-to-shoulder with its notable Mediterranean counterparts, Puerto Portals has been key to putting the Balearic Island on the yachting circuit and its quarter of a century milestone has been recognized in style.
At the heart of Puerto Portals' celebrations has been the creation of a photographic exhibition containing over a hundred images depicting the evolution of the marina. Famous faces from the Spanish Royal Family to Antonio Banderas and Claudia Schiffer all make an appearance in the photographs. The display, which will be open to the public for the whole summer, was officially launched by the newly inaugurated Balearic President, Jose Ramon Bauza, on the exact date of Puerto Portals' birthday – Monday 4 July. He was joined by more than 200 distinguished guests from regular visitors to the marina to associated business persons and Puerto Portals' President Klaus Graf and Port Director Pablo Roca.
David Fawcitt from Puerto Portals-based yacht company, Nick Whale Marine, comments, "It goes without saying that with the construction of this marina has come increased tourist footfall and a general elevation of the profile of this stretch of Mallorcan coastline. Puerto Portals exudes quality in its boutiques, restaurants and the fantastic array of yachts tied up in the 670 berths which can accommodate vessels up to 80m. The marina has also been vital for job creation, more than 400 people are employed in its retail outlets, and even in times of economic downturn Puerto Portals has remained resilient. Nick Whale Marine is privileged to operate from such a distinguished and attractive address."
About Nick Whale Marine - Providing expert service in sales and brokerage, yacht charter, guardiennage, moorings and RYA Training, Nick Whale Marine is also official dealers for three incredible boat manufacturers - 1960s-established Grand Banks, cutting-edge Numarine Performance Motoryachts and market-leaders Humber RIBs. Our hot-off-the-press online magazine, Onboard, is your best guide to all of Nick Whale Marine's services and also features our current charter and brokerage portfolio.
For more information, visit nickwhalemarine.com.