Citroen C-Zero - All-electric benefits for Scottish Borders Council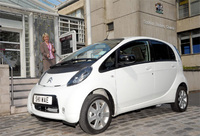 As part of a cost saving, 'green' initiative, Scottish Borders Council (SBC) has set up a pilot electric car pool scheme using the newly-launched Citroen C-Zero. Three well-equipped, full-electric Citroen C-Zeros will be used by SBC's social work team - one of the Council's largest car user groups.

A grant from the Scottish Government's Low Carbon Vehicle Procurement Support Scheme has not only funded the acquisition of three Citroen C-Zeros, but has also paid for the setup of a network of public access charging points across the central Borders region where the cars will operate.

Thanks to its 16kW/h lithium-ion battery, ultra-efficient 49kW electric motor and partial replenishment from its regenerative braking system, the C-Zero can travel up to 93 miles on a single charge. The under-floor battery can be recharged in around seven hours using a domestic socket. Alternatively, the car's quick charging system can provide an 80% recharge in just 30 minutes.

Councillor Jim Fullarton, Executive Member for Roads and Infrastructure, commented: "With the current fuel prices it's a great help for our Social Work Department to be able to recharge the C-Zero at minimal cost. While the C-Zeros will initially be limited to use in towns, with more recharging points we will widen the area they can operate."

SBC administers an area covering 1,830 square miles, stretching from 15 miles south of Edinburgh to the English border and has its headquarters in Newtown St. Boswells, Melrose.