Dennison Commercials gets United's milk collection mooooving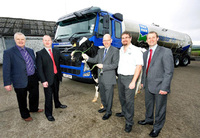 United Dairy Farmers has recently taken delivery of a new Volvo truck from local dealership, Dennison Commercials Ltd. This is a significant deal for Dennison's as it is the first milk collection vehicle that the company has supplied to the Northern Irish Group in a number of years.

Rob Ireland, Sales Manager at Dennison's commented, "We were delighted to be given the opportunity to supply a milk collection vehicle into the market as it represents a move back into the agricultural sector, with which we traditionally had a strong association. In particular, we are pleased that we have been able to work with United Dairy Farmers on this order as it further supports the longstanding business relationship that we have with the Group".

The Volvo FM-450 6x2 tractor unit is equipped with the 12-speed, automated I-Shift gearbox and has been specified with a shorter than normal wheelbase, to allow increased manoeuvrability and to enable the operator to access restricted spaces, as is often necessary in tight farmyards.

As a company that takes staff satisfaction and well-being very seriously, the Volvo FM truck was a perfect choice for United as it is renowned in the industry for its driver comfort, safety and on-the-job enjoyment. The unit has also been specified with a sleeper cab, which offers comfortable overnight accommodation for the driver.

Dan Carey, Fleet Manager of United Dairy Farmers explained, "The milk side of our business is a 24/7 job and is often carried out in challenging environments. The Volvo FM offers the best combination of operational flexibility and driver comfort and is certainly robust enough to function even in the most demanding of conditions."

Stephen Cameron, Group Supply Chain Director of United Dairy Farmers commented, "The benefits of the Volvo truck package have long been recognised by United in terms of the quality of the product and the aftersales care, but most importantly we have identified that the Volvo truck offers unrivalled cost efficiency over the whole vehicle life".