UK travellers back on the road to Mandalay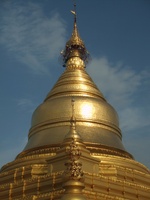 With Burma having been voted "Top Emerging Destination" in Wanderlust's Readers' Travel Awards earlier this year, Imaginative Traveller reports that Brits are heeding Aung San Suu Kyi's wishes to encourage ethical tourism to the country.
Interest in Burma has continued to rise since the National League for Democracy announced that the full tourism boycott would be lifted. Imaginative Traveller, one of a handful of UK operators currently offering tours to the country, reports a 50% increase in enquiries and bookings for its three grassroots Burma tours since January. This growing demand means Burma has risen to become one of the affordable adventure specialist's most popular destinations.
Of the eight summer departures across Imaginative Traveller's three Burma tours between July and the end of September, half are already fully booked.
Speaking of their Burma programme, Imaginative Traveller's Brand Manager, Hiedi Hutchinson, said: "We have always championed the belief that large-scale package tourism to Burma was inappropriate and that responsible tourism, when carefully managed, has positive benefits for the community. After years of isolation, travellers are rediscovering that many of the country's cultural traditions and heritage have been so well preserved that a visit here is akin to journeying back in time.
"With a wealth of pagodas and temples as well as its rich ecological diversity, it is little wonder that Burma is often dubbed the 'Golden Land'. As the most experienced UK operator in this market we therefore look forward to helping UK visitors explore this country and support its people in a responsible manner."
All of Imaginative Traveller's holidays to the destination comply fully with the sanctions imposed by the European Union and follow strict guidelines to ensure only small owner-managed hotels and privately operated agents are used. The adventure specialist also ensures customers are fully briefed on the military regime and human rights issues before travel to ensure they act responsibly while visiting the country. Similarly, its tours are led by local guides born and bred in Burma to ensure that income and training benefits the Burmese people directly.
Imaginative Traveller's Burma programme starts from £850pp land only for the 15-day Best of Burma tour. The tour takes in Rangoon (Yangon), Bago and the Golden Rock at Kyaiktiyo before travelling north and exploring the magnificent archaeological site in Pagan (Bagan). A visit to the former capital of Mandalay and the picturesque Shan State around Inle Lake completes a memorable journey. The price includes B&B accommodation, transport including an internal flight, sightseeing excursions including a day-long bike tour of Pagan and a boat tour of Inle Lake and a local tour leader. Flights from £775, flight-inclusive price from £1625pp. Next departure 21 August.
For more information visit: imaginative-traveller.com