Spend a week de-toxing at Ulpotha, Sri Lanka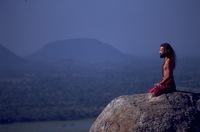 Fleewinter offers the chance to visit Ulpotha, a unique and pioneering project in Sri Lanka, aimed at yoga enthusiasts and nature lovers.
Located 2.5 hours north of Kandy, Ulpotha is completely cut off from the rest of the world with no electricity or hot water and only one phone.
The scenery is breathtaking with a large mountain range encircling the camp and a natural lily-clad reservoir which doubles as the swimming pool.
The retreat itself is a 22-acre organic fruit and veg farm which forms part of a larger village. Guests sleep in traditional clay huts interspersed between the huts of local villages. Designed to be truly low impact the retreat closes for 6 months of the year to allow normal village life, farming etc. to continue, undisturbed.
There is an old colonial mansion at the centre of the complex which has been beautifully restored and an outdoor pavilion where guests come together to eat and socialise. The main house has a kitchen for use during the day; a small library and several bedrooms for anyone who prefers a more solid structure around them at night!
The well-being centre offers traditional ayurvedic treatments such as herbal baths and all guests are offered a consultation with the resident ayurvedic doctor on arrival who will recommend a course of treatment during the stay.
Those who stay for longer than 10 days can undergo the more intense elimination therapies associated with ayurvedic medicine.
The majority of the food at Ulpotha is vegan and wheat free. Grown on site it is extremely healthy and an easy way to detox. Meals are taken in the main house and there is a small kadi (local kitchen) which provides breakfast as and when you choose to rise and small snacks throughout the day. Alcohol is not served at Ulpotha.
Local places of interest to visit include the Dambulla Cave Temples at Yapahuwa with its hilltop remains of a 13th century kingdom, and Kandy.
Alternatively there is great walking and bird watching in the area or bikes are available to discover local villages.
There are no single huts and while the retreat tries to organise sleeping arrangements in an appropriate manner, guests may end up sharing a twin hut with a stranger.
A week booked through Fleewinter costs from £1499 per person which includes flights, transfers, full board accommodation, yoga classes (two per day), one massage, the herbal steam bath, one free consultation with the resident doctor, guided walks within Ulpotha and to the neighbouring temple plus an excursion.
For more information and bookings, visit: fleewinter.com