Ryanair welcomes its 30 millionth Scottish passenger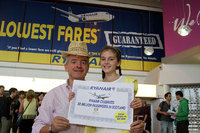 Ryanair, the world's favourite airline, this week welcomed its 30 millionth passenger on flights to/from Scotland.

At Glasgow Prestwick Airport this morning, Chief Executive Michael O'Leary presented 10-year-old Zara McAnerney from Clydebank and her family (Dad Martin, Mum Elaine and sister Olivia) with a free family holiday to Faro including flights, transfers and accommodation at the five-star Dom Pedro Golf Resort.

Since Ryanair's first Scottish flight departed from Glasgow Prestwick to Dublin in 1994, Ryanair has opened two Scottish bases (Prestwick & Edinburgh) and offers flights on over 61 routes from 3 Scottish airports (including Aberdeen). In 2011 Ryanair will carry some 3m passengers to/from Scotland, supporting and sustaining 3,000 Scottish jobs.

Ryanair celebrated its 30 millionth Scottish passenger by releasing 1m £8 seats for travel across its European network in October which are available for booking on ryanair.com until midnight Thursday (14 July).

In Glasgow, Michael O'Leary said:

"In just 16 years Ryanair has carried 30m passengers to and from Scotland, with passengers saving over £6billion by switching to Ryanair's low fares over British Airway's high fares. Ryanair will carry some 3 million passengers through its 3 Scottish airports this year, sustaining 3,000 jobs and underlining Ryanair's commitment and importance to Scottish tourism.

"To celebrate our 30 millionth passenger to/from Scotland, Ryanair is releasing 1m £8 seats which are now available for travel across Europe in October. Since seats at this crazy low price will be snapped up quickly, we urge passengers to book them immediately on ryanair.com ."

The Dom Pedro Hotel Group started 40 years ago and opened its first property in Maderia. Since then the Dom Pedro Hotel Group has become one of the most successful Portuguese hotel chains. Dom Pedro Hotels are situated in strategic and privileged locations in Portugal (Lisbon, Algarve, Madeira Island).