Get online to win a brand new Citroen DS4 with DS4SEEKERS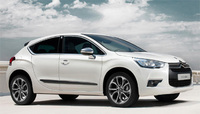 Citroen is gearing up to launch 'DS4SEEKERS'. A fun new online and mobile platform competition, DS4SEEKERS uses mapping technologies from Google to create an innovative multi-player game of hide and seek with the brand new Citroen DS4.

Players both hide and seek virtual Citroen DS4s across the Google Maps and Google Streetview worlds, with points earned for hiding and finding cars - each point gains an entry into a draw to win a top of the range New Citroen DS4. The more points players collect, the more chances they have to win. Players are given new DS4s to hide each day.

DS4SEEKERS will be accessible from Citroen's official UK Facebook page - ds4seekers.citroen.co.uk. The game will run for two 10-day periods with the first commencing on Tuesday 19 July. The second is planned for September.

Developed by specialist digital content agency Candyspace, the game uses an innovative combination of well known platforms - Facebook, Google Streetview & Google Mobile Maps - with players able to take part both online and using their smartphone. A key feature is that users are able to move seamlessly between mobile and online, thanks to real-time, back-end integration.

Jules Tilstone, Citroen UK's Marketing Director, commented; "DS4SEEKERS is an engaging, innovative and enjoyable interactive platform to introduce more people to Citroen and New Citroen DS4.

"By integrating popular and powerful technologies such as Facebook and Google, and making the application easily accessible on multiple platforms including mobile phones, DS4SEEKERS is expected to appeal to a wide audience. In a constantly evolving digital landscape, we believe DS4SEEKERS has the potential to become one of the stand-out campaigns of the year. It's a uniquely fun display of Citroen's Créative Technologie."

In a previous incarnation of the game, 'DS3 StreetSeekers', players used clues to hunt out DS3s hidden across Europe - the competition attracted almost 65,000 entrants.