Free family treasure trail in Stratford upon Avon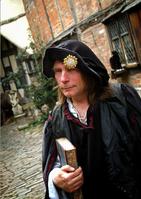 Family days out can be an expensive affair. Especially in the current economic climate. The Falstaff Experience in the heart of Stratford upon Avon constantly endeavors to find new ways to offer visitors value for money.
The Tudor history museum has created a treasure trail around Shakespeare's Stratford. Plucky adventurers will be guided by the advice of the Tudor Detective who offers handy hints at the top of each page. The trail covers a distance of approximately 2 miles and visitors should allow up to 2 hours to solve all the clues. The 'Murder and Mystery Treasure Trail' covers all of the main sights in Stratford and is the perfect introduction to the historic town. The trail is free to download from the museums website falstaffexperience.co.uk.
Visitors are asked to complete the trail then had their completed map into the museum and receive a certificate and small prize. All completed entries will be then entered into a monthly prize draw for some exciting prizes such as merchandise, ghost tour tickets and museum tickets.
Creative Director Janet Ford said: "We often get asked if there is anything free to do in Stratford and we struggle for answers. This trail which can be downloaded for free by visitors before they come to Stratford provides a much needed free experience. It is also good for the whole of the town as it allows visitors to see what is here ensuring they do not miss any of the fantastic attractions Stratford has to offer. We feel this will prove a valuable resource for engaging families when they visit Stratford."